Garage Gallery is located 1/2 block off of Main Street in Beacon NY on North Elm Street. (To use GPS, enter 11 N. Elm St., Beacon NY—the gallery is directly across the street.)
Want to be added to our exhibition mailing list?
CLICK HERE!
Making Marks
Stephen Grossman
Lily Prince
October 14–29, 2023
Sat/Sun 1–5pm
Opening Reception, October 14, 4–7pm
The impulse to draw, to transfer what we see and think into lines and marks on a surface is intrinsic to being human. From charcoal on cave walls, to pencil on paper, to brush on canvas, our hands give form to what goes on in our heads. Our innate connection of eye and hand allows us to give physical presence to thoughts and feelings, to communicate complex ideas without words. To create art.
The doodles we idly festoon on napkins and notepads are the simplest of drawings. But when perfected by artists as diverse as Agnes Martin and Jean-Michel Basquiat, hash marks and grids, zigzags and spirals, arrows and stars become the words of a complex and compelling language. Through observation and repetition—eye to hand, hand to eye—artists develop personal visual vocabularies that help us all learn to see.
Stephen Grossman
builds his drawings and paintings out of an encyclopedia of uncountable individual lines, made by a variety of tools on various substrates. Trained as an architect, he works within simple, totemic forms that allow the expressiveness of the individual marks to both articulate and animate the surface and the energy expended in their making to shine though.
In
Lily Prince's
exuberant landscapes, "observational gesture meets abstract mark-making, creating an ordered chaos of the natural world." Based on plein air drawings of the Hudson Valley, Italy, and the American West, their lush colors and wide variety of distinctive shapes combine to create works that are joyfully light-filled yet grounded in their sense of place.
September 9–24, 2023
Sat/Sun 1–5pm
Opening Reception, September 9th, 4–7pm
Portrait photography is strongly influenced by images from the mid to late 1800s. Formal tableaus. Intense stares. Canvas backdrops. All are artifacts of painting traditions, translated with nascent technology that did not have the sensitivity to light needed to freeze movement. Prolonged stillness (often enforced with metal braces and solid chairs) was required 
for sharpness. While we no longer have such limitations, something has been lost as we abandon old technology for new.
But what if we governed the extraordinary speed of digital sensors and forced them to operate at a slower pace?  What if movement and sharpness could co-exist? What if recording the passage of time became an essential element of a portrait?
In "Slow Glass" Lerman assembles portraits from thousands of thin sharp lines recorded
over time.
When the world is slowly recorded in paper-thin slices, movement leaves traces, motion becomes sharply drawn instead of blurred, and, as the subject struggles for stillness or deliberately moves, intent becomes visible. 
This work is about fluid interplay, not capturing a decisive moment. As each image is slowly built across the computer screen, neither the photographer or the subject is completely in control. Every photograph is an act of discovery.
Scott Lerman creates lens-based images at the intersection of art and science, of nature and technology. Whether frozen by an array of ultra-high-speed strobes, stacked and stitched by a computational model, or captured by a hybrid of vintage and cutting-edge technology, his (sometimes obsessive) curiosity about how mechanical, digital, and natural things work leads him to explore and experiment with hybrids of all three.
His work has been exhibited in a wide range of galleries, including Candela Books + Gallery, Richmond VA; The Center for Fine Art Photography, Fort Collins, CO;  Darkroom Gallery, Essex Junction, VT; Garage Gallery, Beacon, NY;  Garner Arts Center, West Haverstraw, NY; Kadoya Gallery, Pueblo, CO; and Soho Photo, New York, NY. He resides in Beacon, NY.
Lerman holds a BFA from The Cooper Union for the Advancement of Science and Art.
What Is Lost?
Fern Apfel
& Amy Becker
Paired Solo Exhibitions
August 12–27, 2023
Sat/Sun 1–5pm
Opening Reception, August 12th, 4–7pm
We've become inured to the rapid pace of technological change—to the relentless overwriting of the old with the new. Our culture and economy have come to depend on discarding what is for what could be. We are addicted to the rush of new devices and features.  
Fern Apfel and Amy Becker confront us with the remains of wired telephones and handwritten letters—two archaic modes of communication that have faded away in the face of wireless phones and digital applications. But while cell phones, email, texting, and social media have freed us from limitations of place, reach, speed, frequency, memory, and dexterity, much has been lost. 
Fern Apfel's
 trompe-l'oeil paintings feature handwritten letters. Their script is beautiful and personal—but like a defunct floppy disk, likely unreadable to new generations. Her paintings evoke a time when correspondence, concert and train tickets, and other paper artifacts were worth the effort of carefully making and keeping. These tangible markers of relationships, journeys, and events were not ephemera to those who carefully saved them, they were precious emotional touchstones to be cherished and passed from generation to generation. 
Amy Becker's
 photographs of the remains of pay phones immerse us in the neighborhoods that grew around them. Essential hubs of communications, pay phones were critical to activity and commerce. Public, yet private, they rooted users to a specific place, yet allowed them to venture out into the world. The information exchanged in a phone call—inherently limited by space, time, affordability, and the presence of both parties—had weight and meaning. Whether the message was practical or emotional, pay phone calls were short, to the point, and rarely ignored.  
The work of these artists reminds us that something is lost when we remove the constraints of communication. That unlimited bandwidth eliminates the need to consider our words. That asynchronous communications make it easier to exchange information but kill real connection. That being freed from fixed locations disconnects us from communities. That the cost of making things by hand or speaking directly to others is small compared to the value of beautiful, personal, and direct human connection.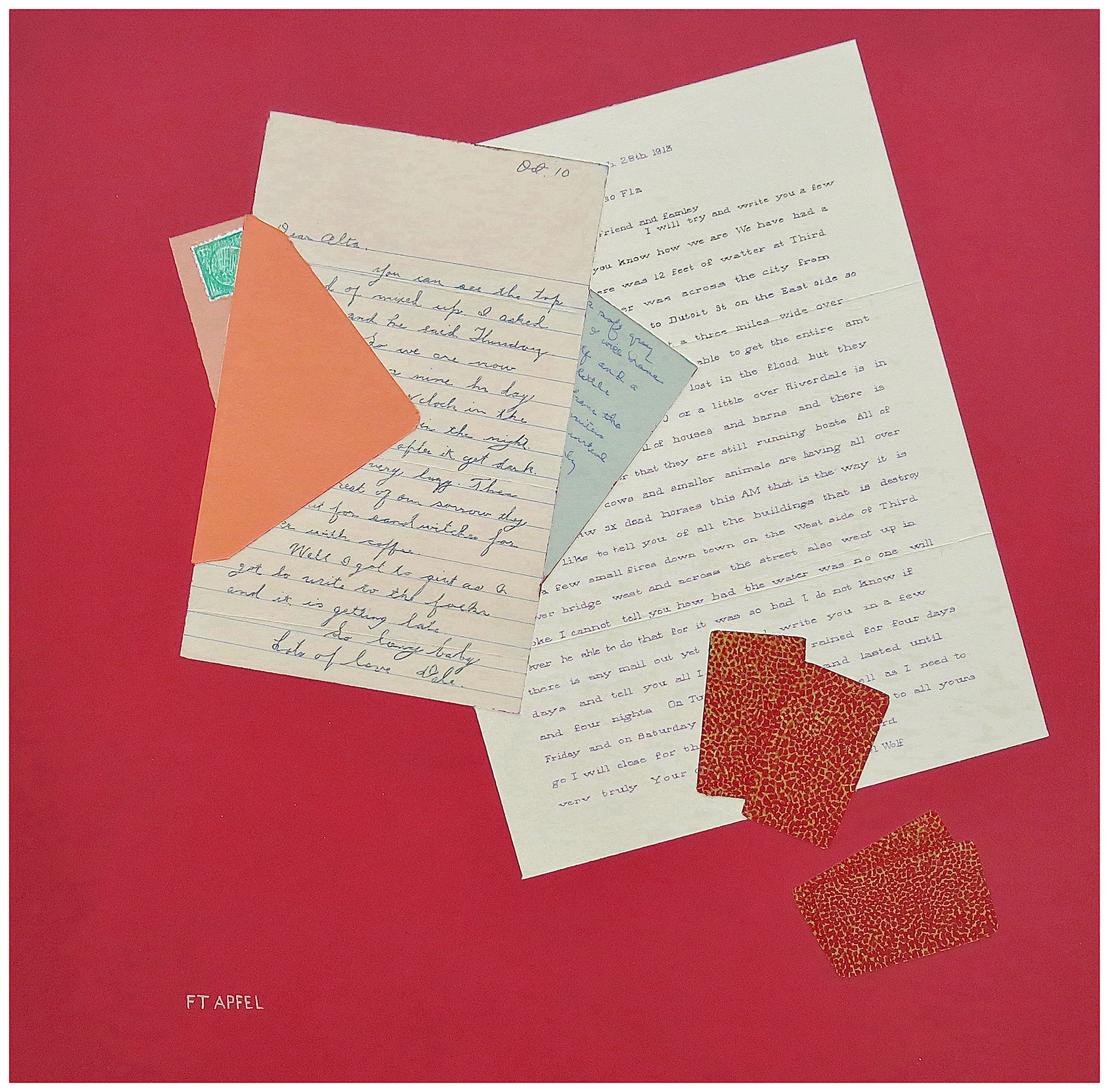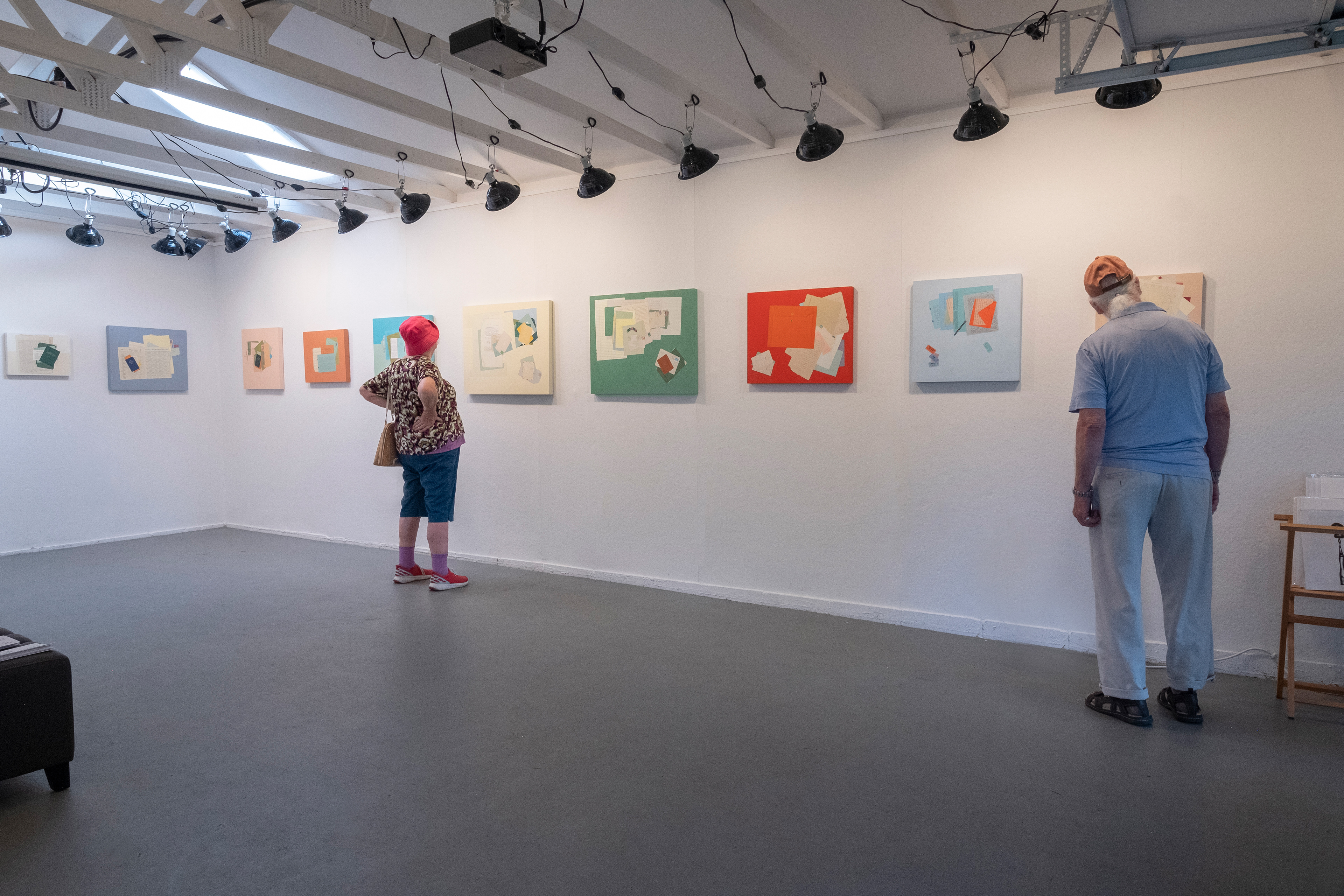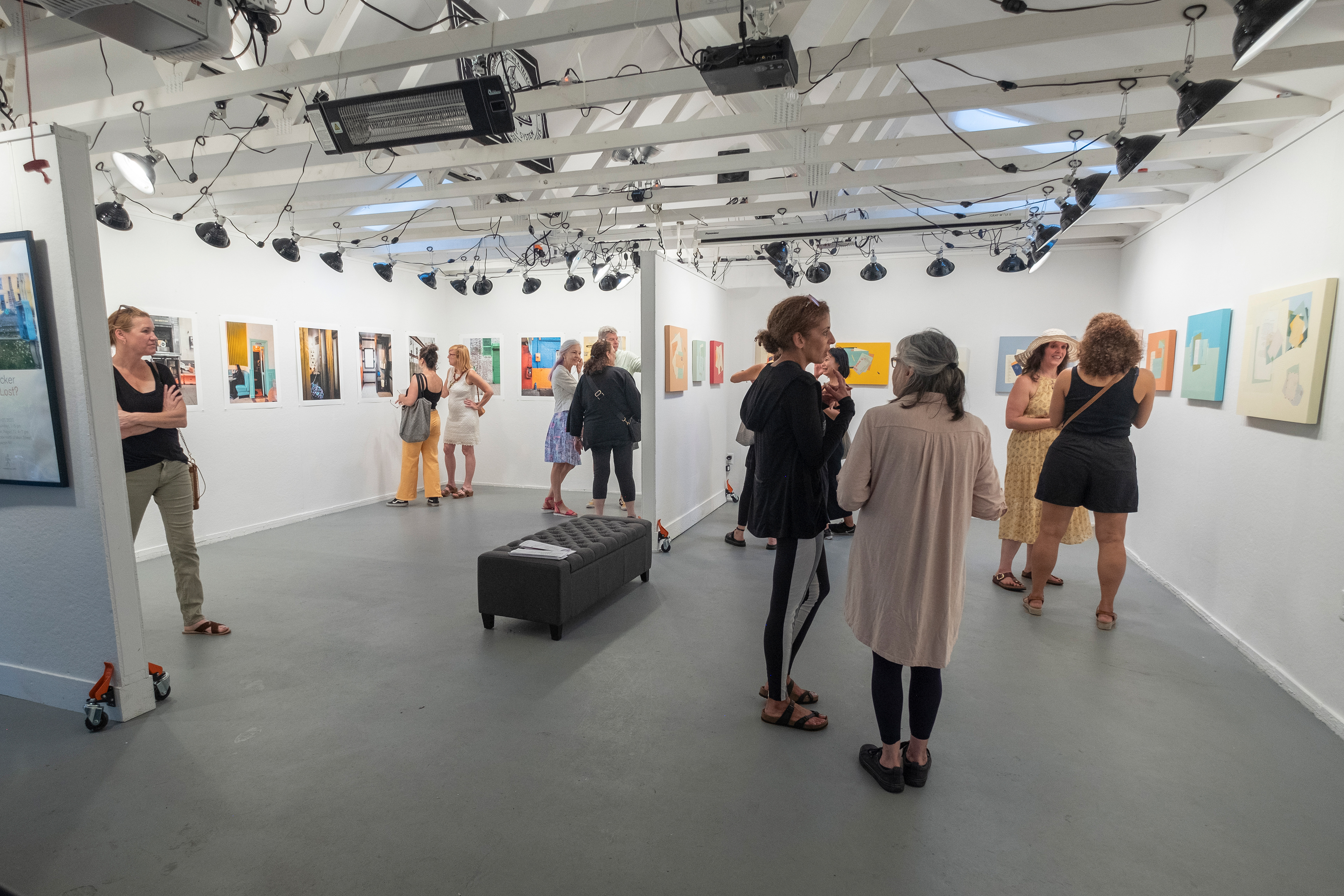 Reclaimed
Laura Petrovich-Cheney
Jaynie Crimmins 
& Rinat Goren
July 8–23, 2023
Sat/Sun 1–5pm

Open as part of Beacon Open Studios and Upstate Art Weekend, July 22+23
"Women's work" is such a loaded term—loaded with seemingly impossible to dislodge assumptions about who does what in this world and what it's worth. Said dismissively, these two short words have the power to devalue the lives and work of half the population. Still. But said authoritatively, joyfully, hopefully, it can refer to the unheralded artists who have long woven and embroidered seemingly worthless scraps of everyday life into entirely new vocabularies of expression.
While the battles for women's equality and place in history continue on, so do the artistic traditions built by generations of women who explored and redefined the role of abstraction, color, materials, and process in artistic expression. The three artists in this exhibition fold, weave, cut, and assemble "waste" into extraordinary
works of art. They transform mundane materials—ephemera, painted scraps of wood, and even the detritus of meals—with their hands, minds, and hearts—into unique objects of inspiration, meaning, and beauty.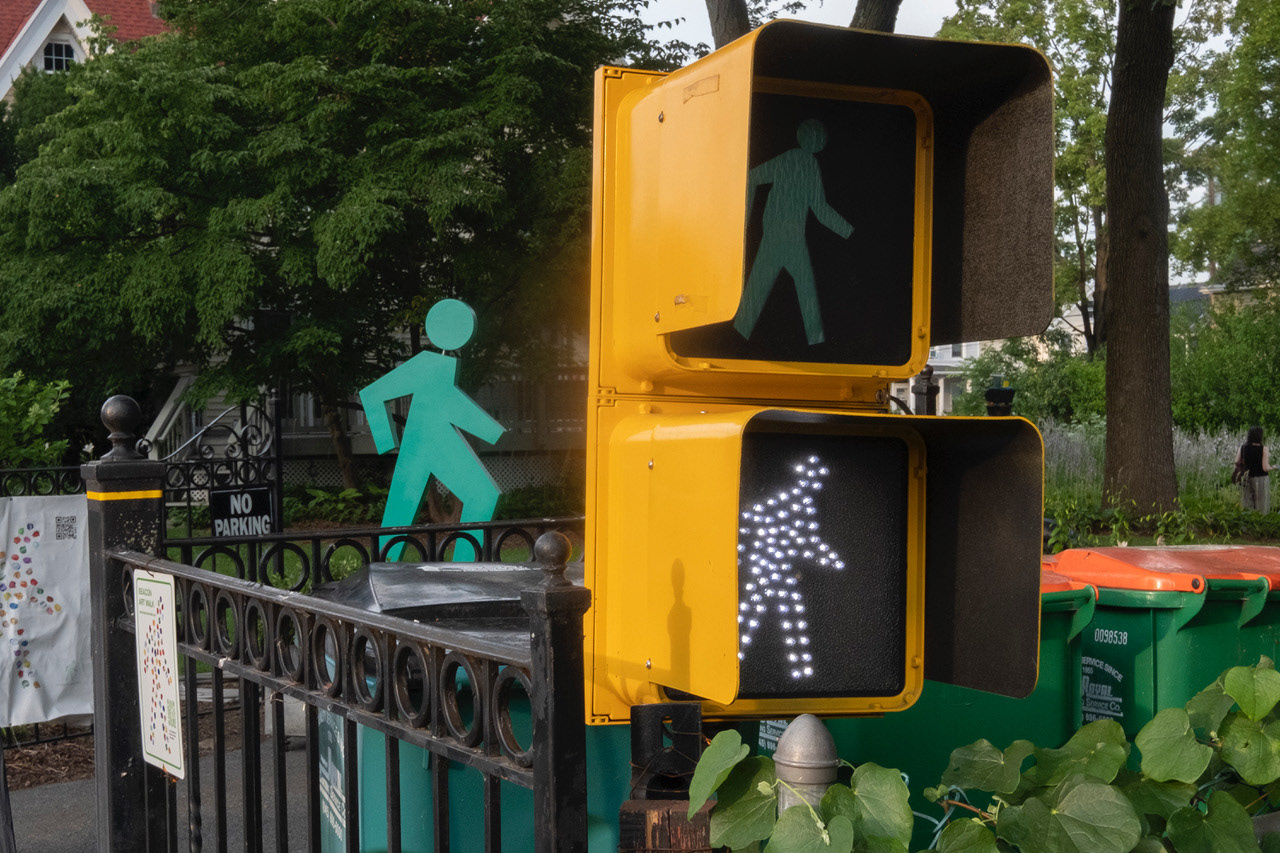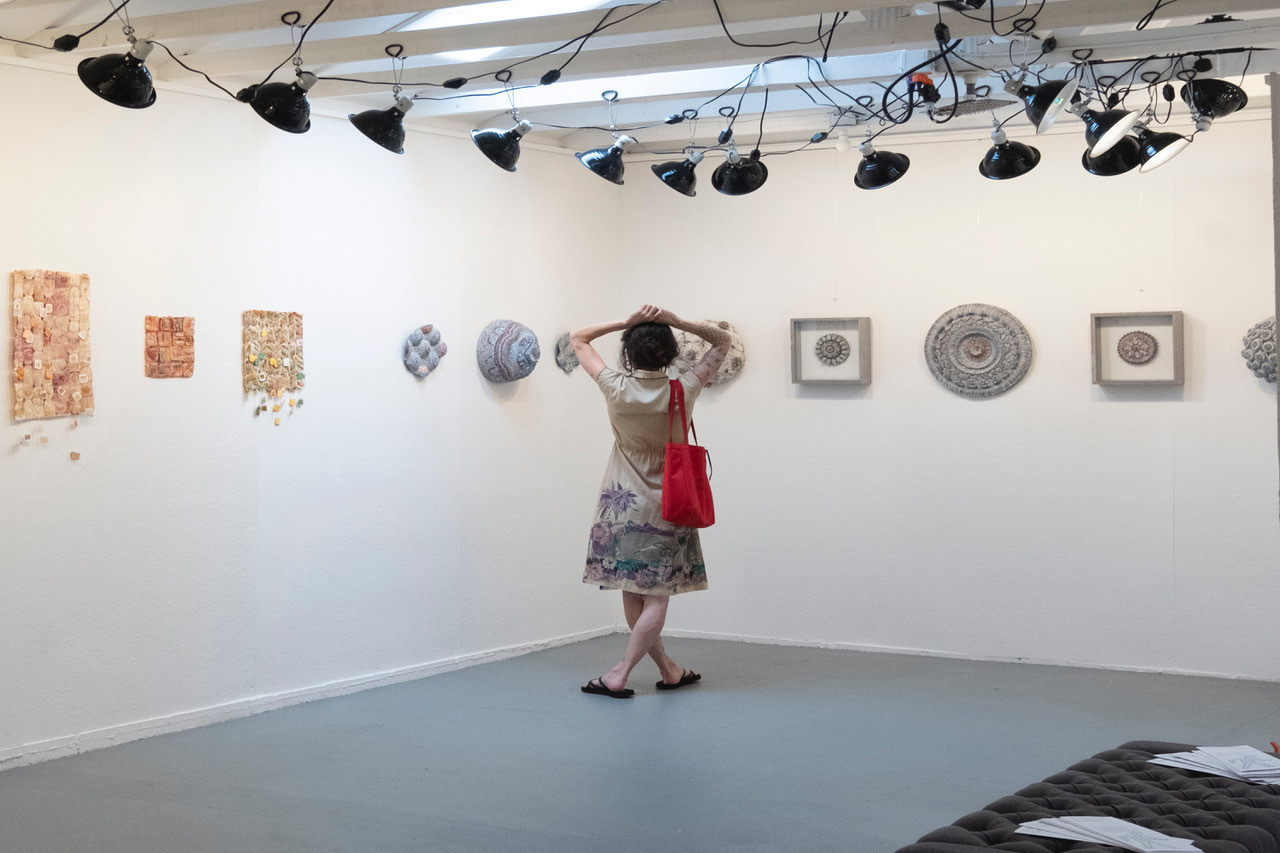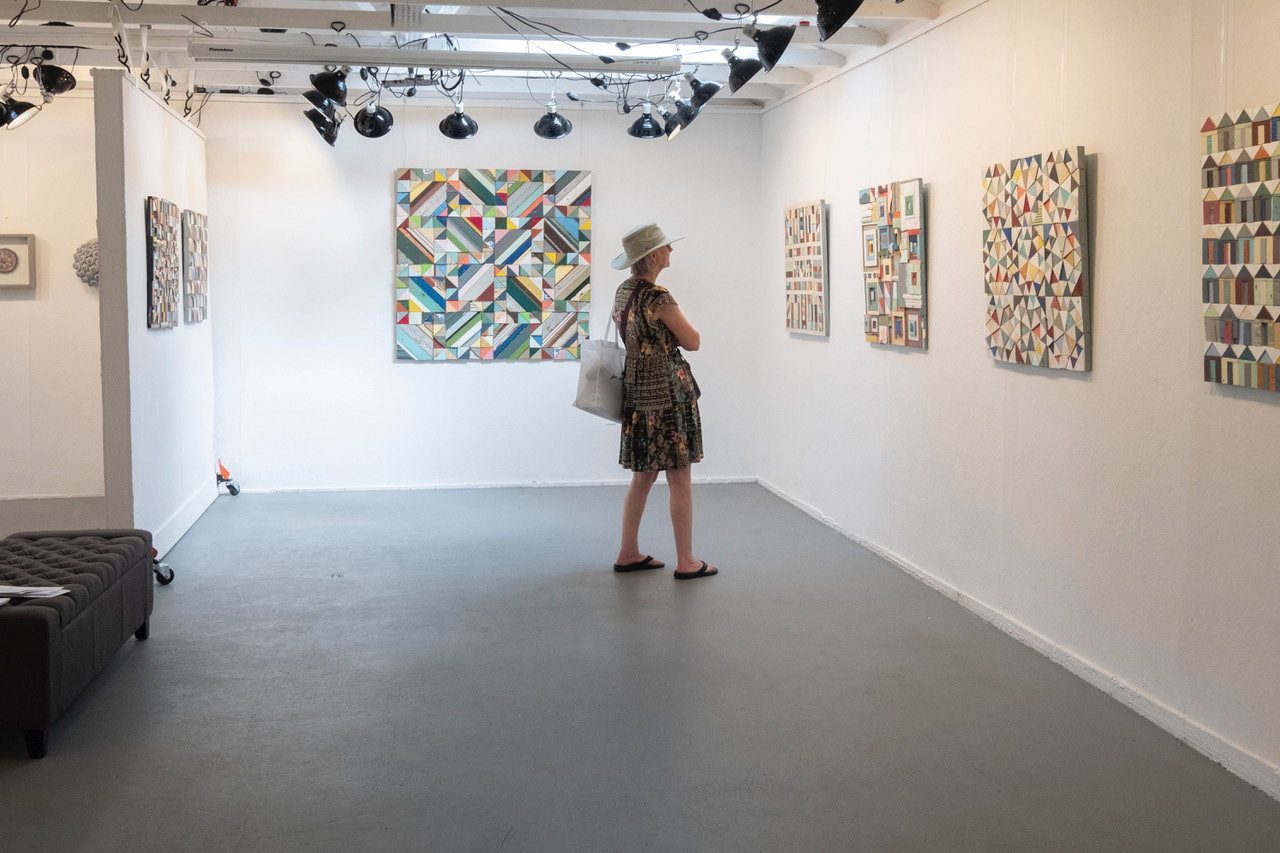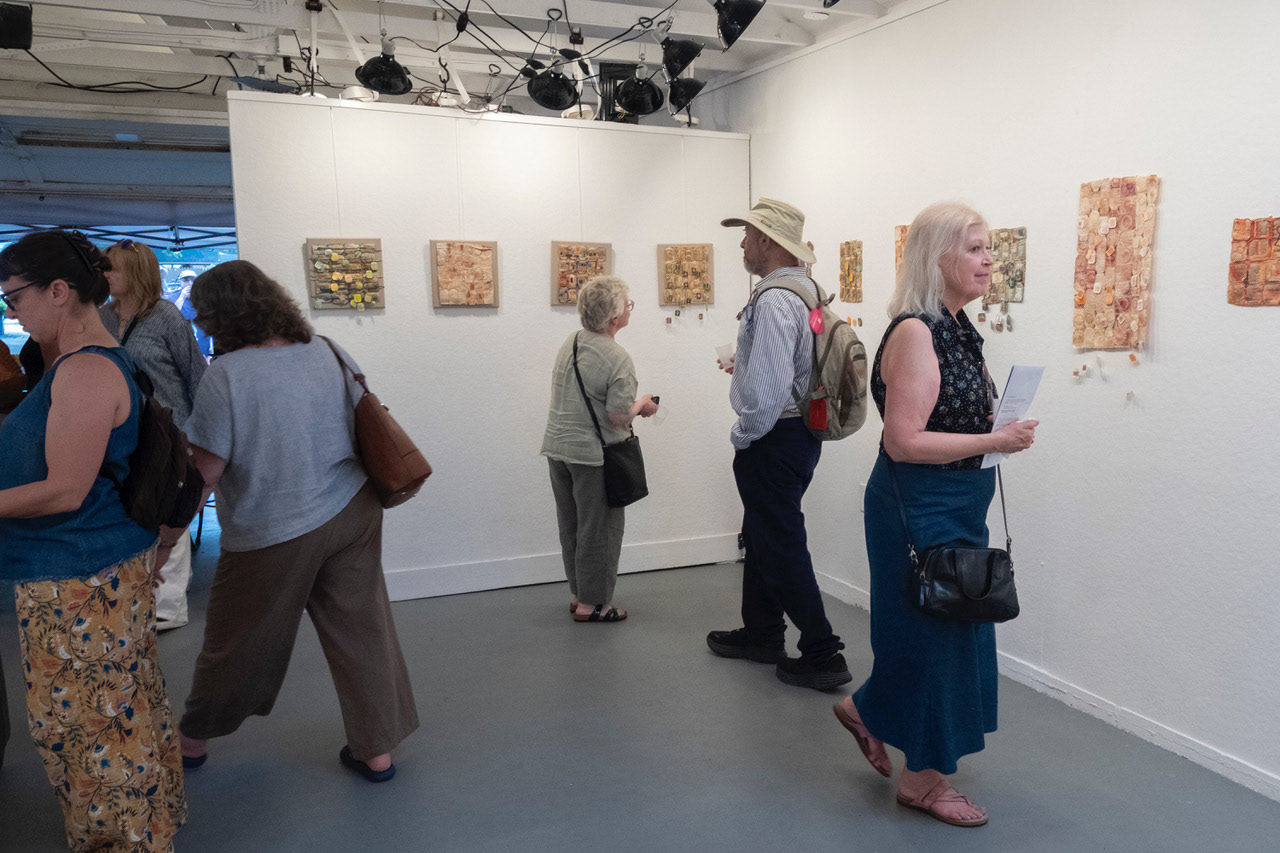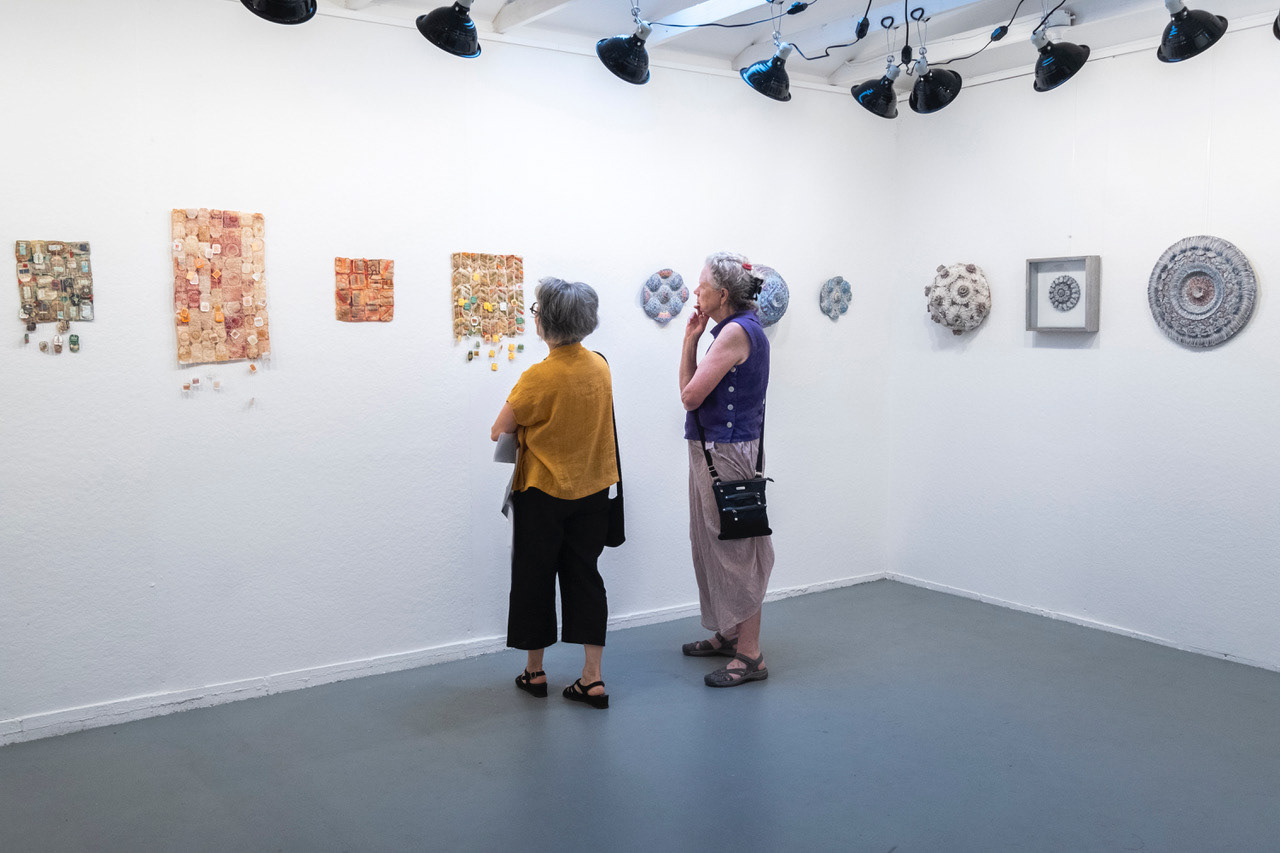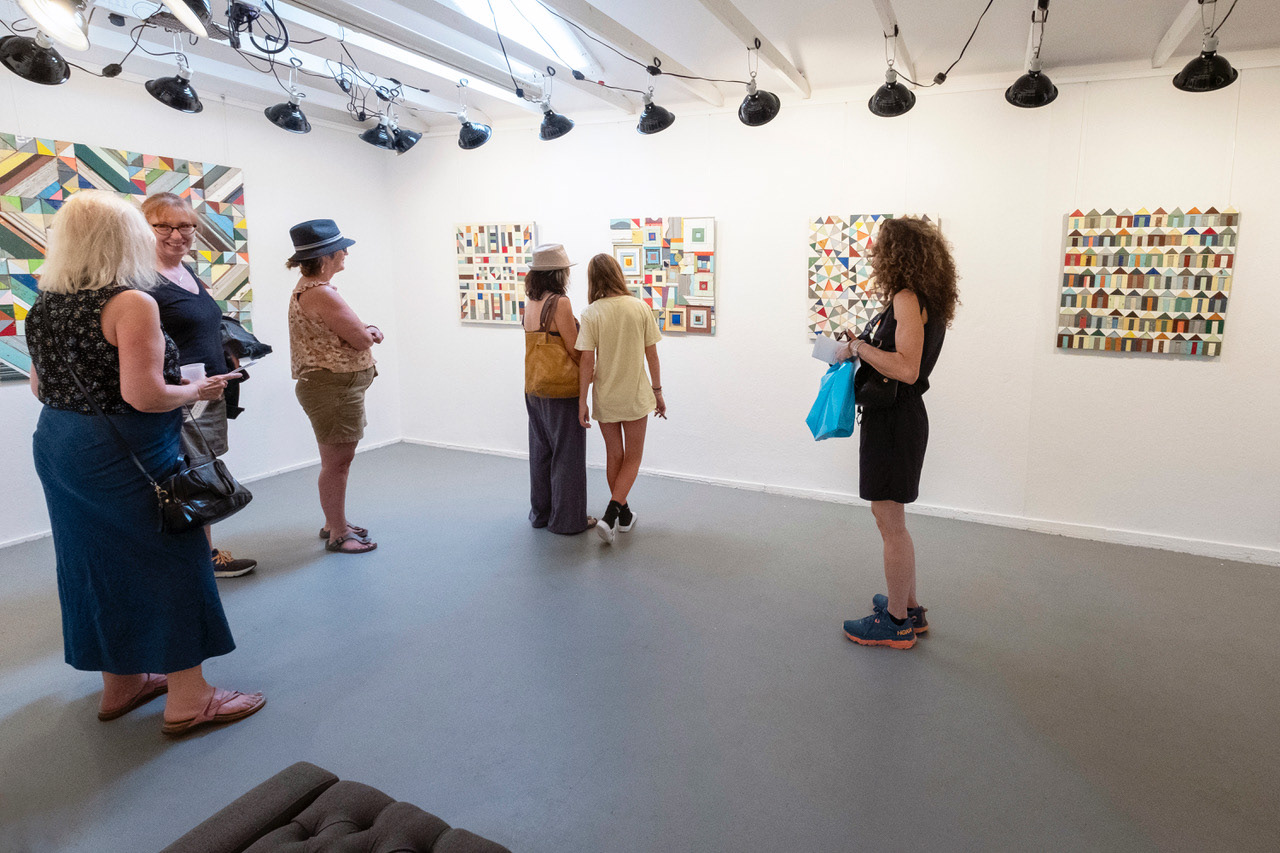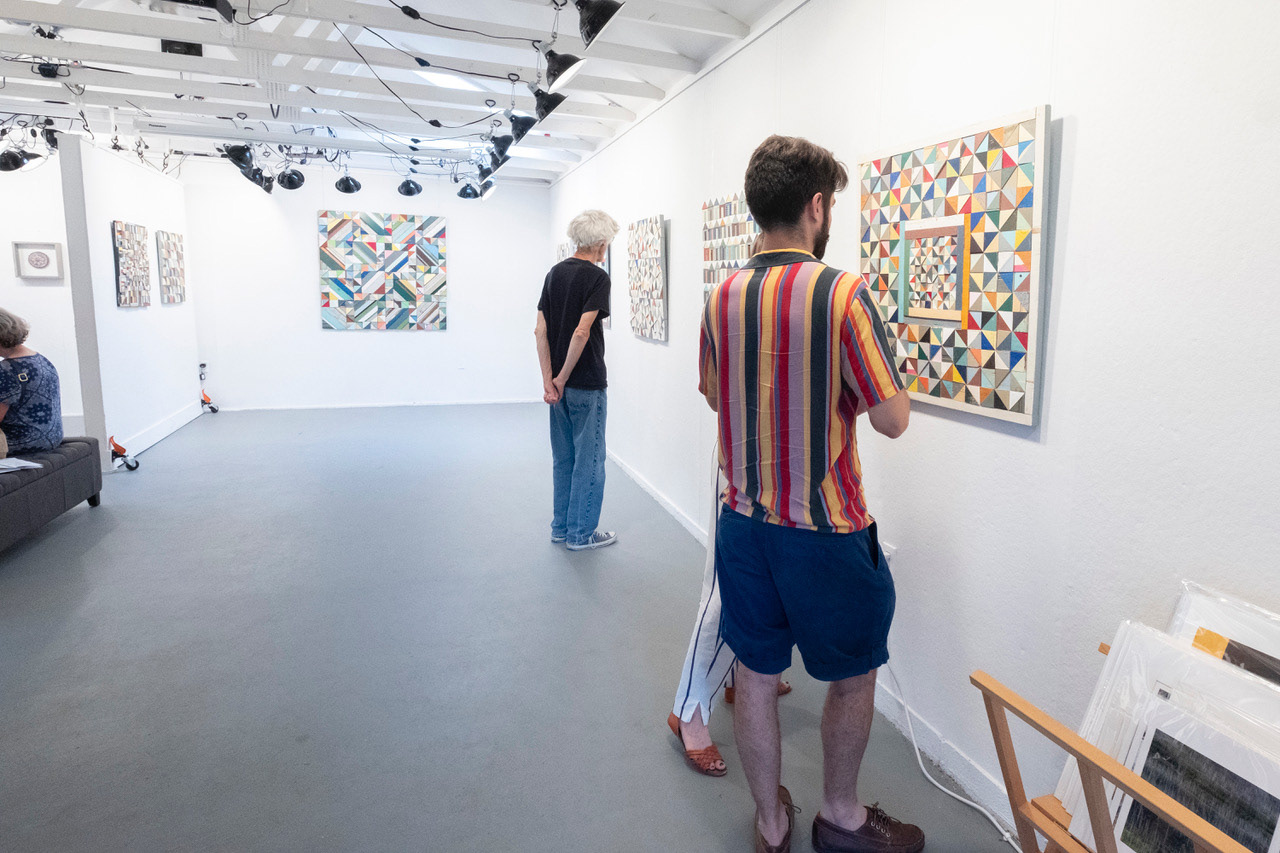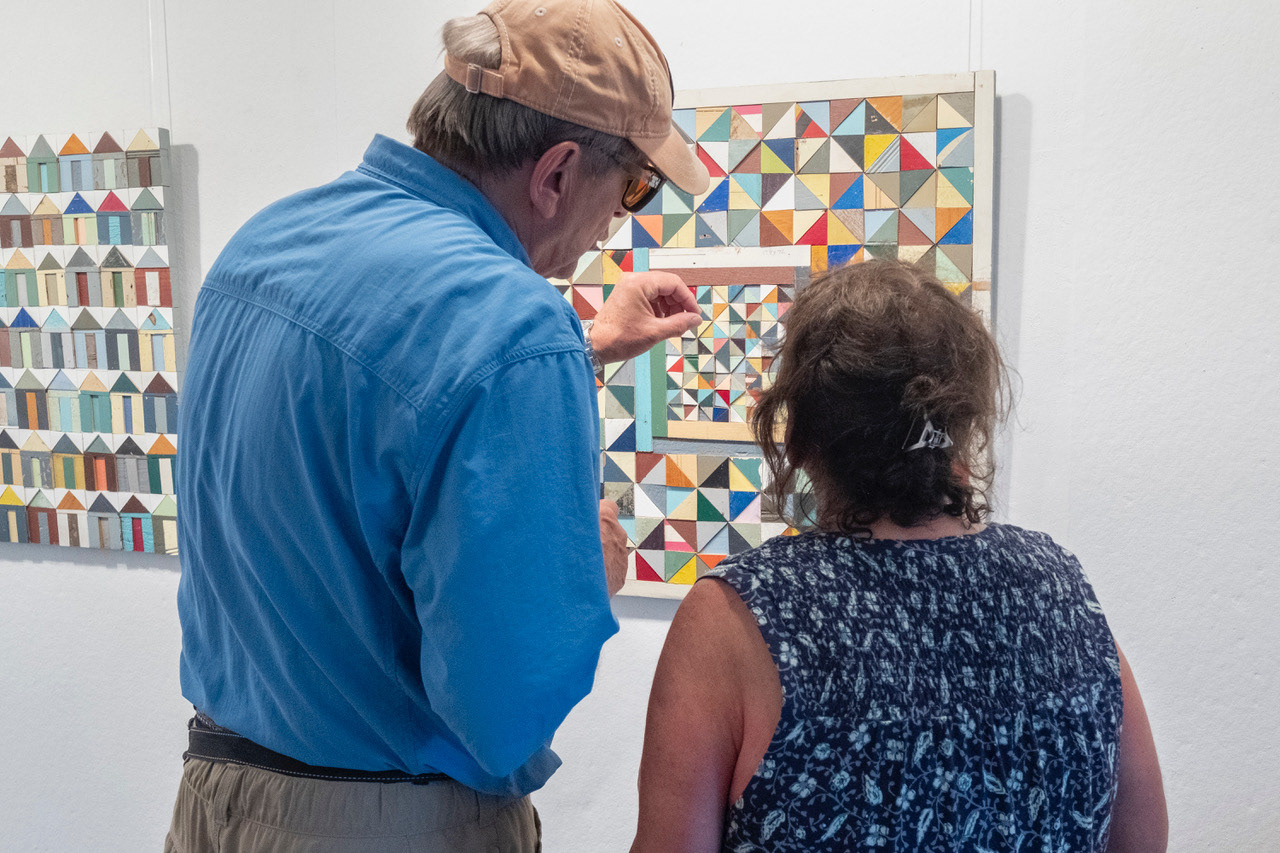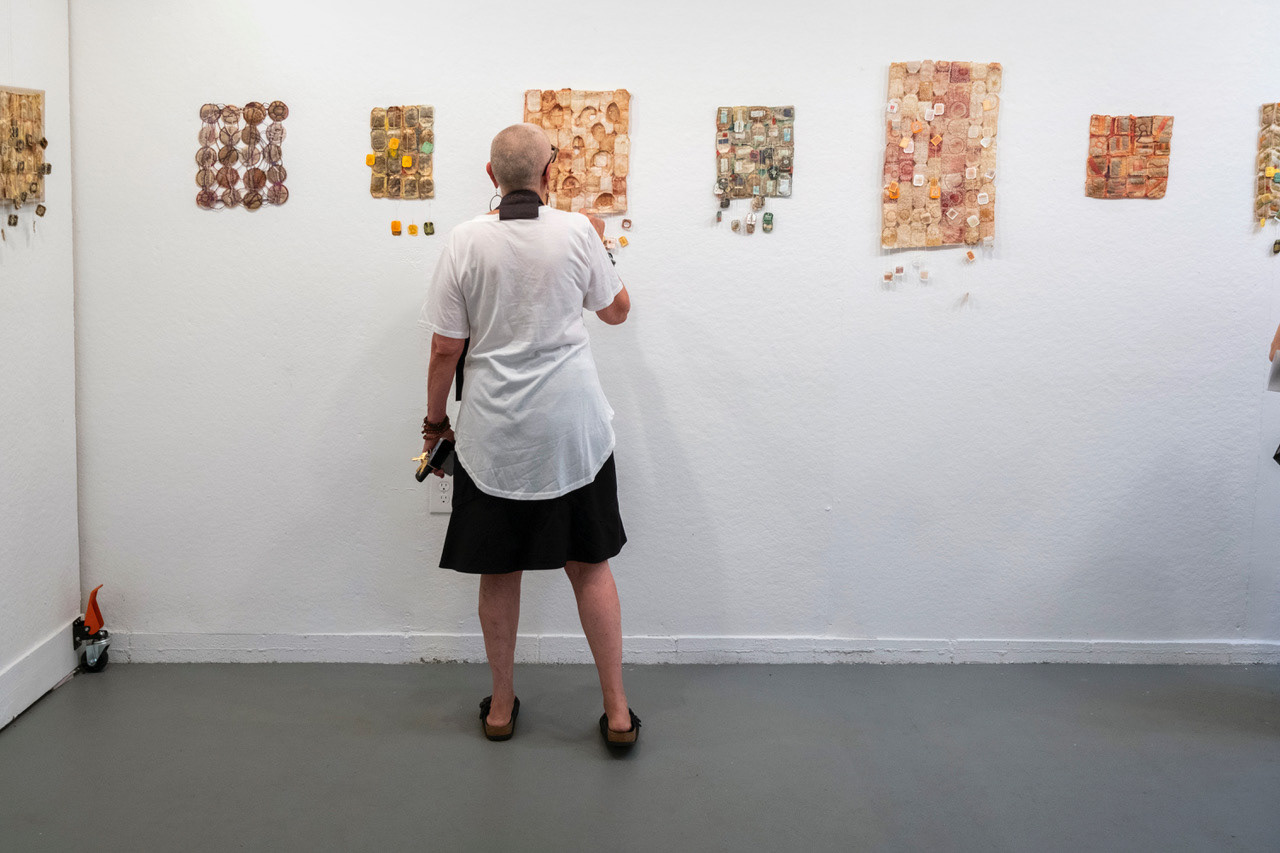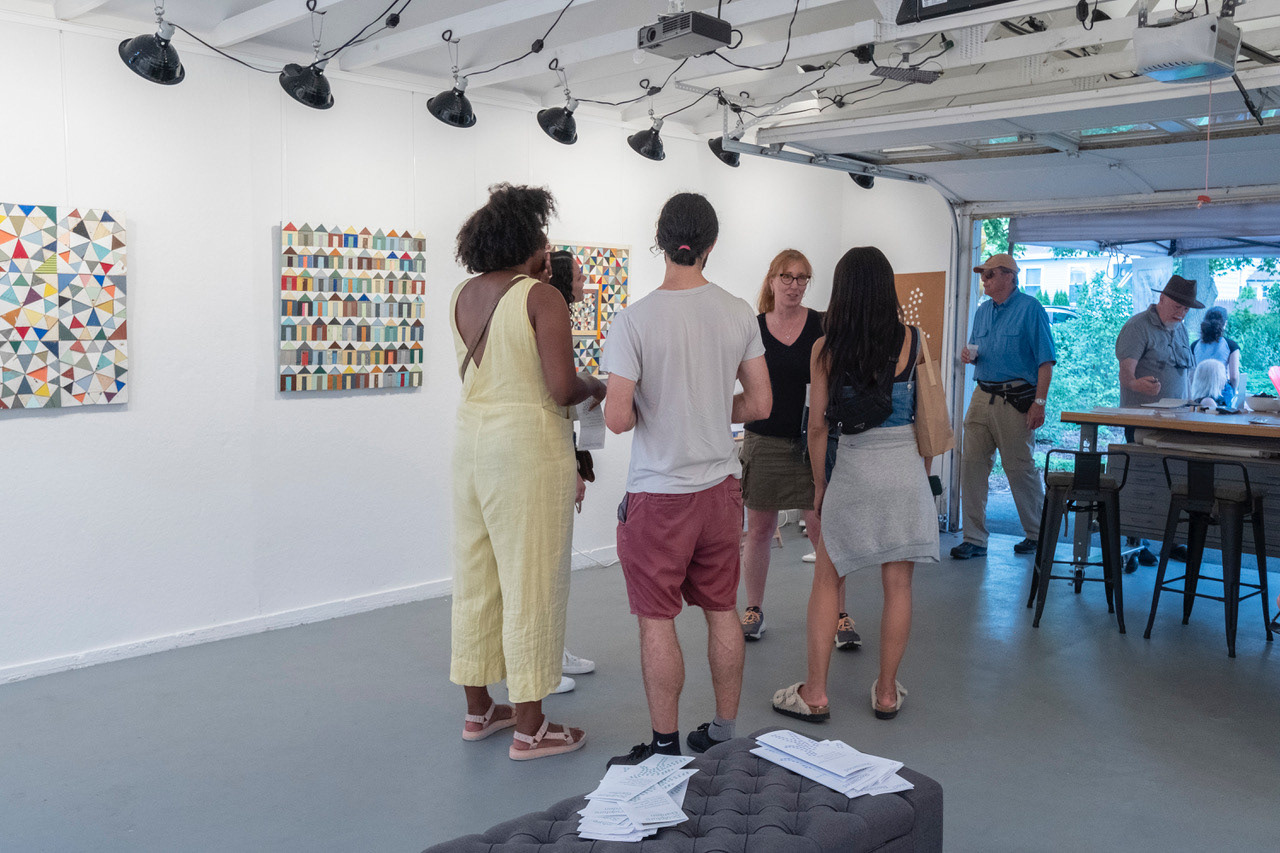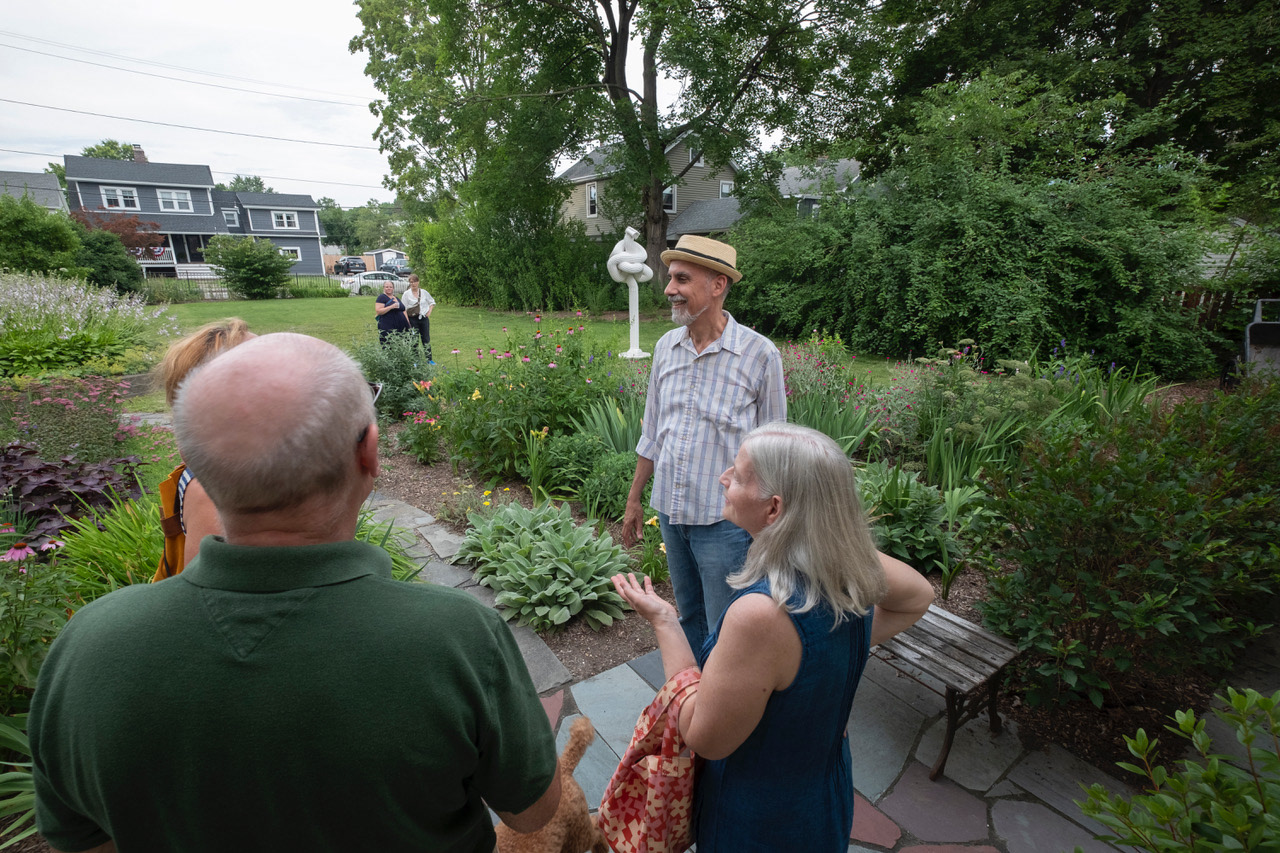 Quilts are the original art of recycling, cut and pieced from worn out clothes or other bits of fabric that would otherwise have been discarded.
Laura Petrovich–Cheney
upends and up-sizes this tradition, exchanging fabric for wood, needles for saws, and remnants of our wardrobes for shards rescued from fallen houses and broken boats. Interpreting traditional patterns and inventing news ones, she has created a unique vocabulary of rescue from loss, works of personal and cultural meaning that "offer comfort, beauty, and hope." BIO
To create her unique artworks
Jaynie Crimmins
shreds marketing catalogs, magazines, and security  envelopes, then twists and folds the resulting ribbons into tiny packets, until finally assembling them into complex structures. While the content of the pages is fragmented almost beyond recognition, it shimmers on the surface, hinting at the worlds within. Though small in scale her works have great presence, the energy expended in their making captured in iconic forms, like the relics of an ancient religion. BIO
Like many of us during the pandemic
Rinat Goren
turned to rituals of comfort and continuity like making tea. Artists are see(ers), and the enforced inward turn of sheltering in place revealed the aesthetic and cultural richness and complexities of the humble teabags we casually use and throw away. Collecting her used bags, and those of her friends, who left them by her door, she began sewing and weaving them together, then embroidering them into artworks that are beautiful, compelling, and utterly delightful. BIO
Garage Gallery
Sculpture Garden 

Open as part of Beacon Open Studios and Upstate Art Weekend, July 22+23
Emil Alzamora
Edward Benavente
Lori Merhige &
Heinrich Spillmann
Emil Alzamora's
Polaris
sculpture explores notions of transience, beauty, harmony, uncertainty and hope. Emil was born in Lima, Peru and lives and works in Beacon, NY. 
Edward Benavente's
WALK
is an illustrative portrayal of the human condition—whimsical, with a footnote of serious thought and contemplation. Born in Downey, California, Ed currently lives in Beacon, NY.
Lori Merhige's
Twisted Column
symbolizes the powers that define our principles and support our purpose as a society. She lives and works in Beacon, NY.
Heinrich Spillmann's
work honors venerable trees.
Beech Church
 was made from the wood (and stands on the stump) of the massive Beech tree that grew by its 1860 Second Empire Victorian home on Church Street in Beacon, NY.  
Creative Destruction
Caroline Burton
& Jim Nickelson
Paired Solo Exhibitions
June 10–25, 2023
Sat/Sun 1–5pm
Opening Reception, June 10th, 4–7pm
The natural world has always revolved through cycles of creation and destruction. Whether driven by fire, storm, meteors, evolution, or other forces—each revolution is one of loss and gain, pain and joy—each cycle clearing the field for new, often more complex, life and environments. But as human interference creates ever-increasing distortions in natural rhythms, will the whole system simply spiral out of control? Caroline Burton and Jim Nickelson create, destroy, and reorder both objects and images, capturing the beauty and fragility of what is, and showing us what could be.
Burton's
organically flowing forms begin with heavily marked canvas that she paints and prints, cuts and sews, folds and unfolds, until a new order, a new structure comes into being. 
Nickelson's
photographs begin as traditional landscapes, but the paper prints are slashed, torn, and reassembled into scarred vistas. Both artists repurpose natural process to create works of striking beauty. While Burton's is a celebration of the power of art to reclaim and restore harmony after chaos, Nickelson warns us of the perils of imposing our will on nature, that the mutilated landscapes we create foretell the irrevocable destruction that is coming. 
Caroline Burton
's process-driven practice draws on her Finnish heritage, architectural forms, land formations, and the effects of accidents in life and art. Her materials include paint, canvas, thread, gypsum plaster,
and bronze. 
She received her MFA from Mason Gross School of the Arts, Rutgers and BFA from Cleveland Institute of Art. She's had solo exhibitions at Garrison Art Center, NY; 490 Atlantic Gallery, NY; New Jersey City University, NJ; Johnson State College, VT; and Accola Griefen Fine Art, NY. Burton has been awarded fellowships at Sam and Adele Golden Foundation for the Arts, Virginia Center for Creative Arts, and Vermont Studio Center. Her work resides in many private and public collections including Ewing Gallery of Art and Architecture, TN; Montclair Art Museum, NJ; and Zimmerli Art Museum, NJ. Burton lives and works in Jersey City, NJ.
Jim Nickelson
is a fine art photographer, custom digital printer, teacher, and author. A former NASA engineer and corporate attorney (B.S. in Aerospace Engineering from the Univ. of Texas at Austin and a J.D. from Harvard Law School), he makes his home in Camden, Maine. His numerous awards include Artist-in-Residence at Acadia National Park and Arizona's Chiricahua National Monument, as well as at Iceland's Baer Art Center. Nickelson's work has been exhibited widely in museums and galleries and resides in museum, public, corporate, and private collections across the United States and Canada.
Solo Exhibition
May 13–28, 2023
Sat/Sun 1–5pm
Opening Reception, May 13th, 4–7pm
At a time when photography seems to know no bounds, Paul Kessel is very clear about what his work is, what it does, and why these distinctions are important. He shoots street.
Street photographers practice the art of being present but not engaged. Like human tuning forks, they await the "decisive moment" when everything in front of their lens comes together—when the formal, compositional elements are in perfect balance with the human, psychological content, all captured at that one moment of anticipatory stillness, the diver's peaking arc.
By refusing to interact with his subjects, Paul Kessel makes images that allow—actually insist—that viewers create the narratives, decide on the truths portrayed. Rather than decoding someone else's story, we are obligated to make up our own.
A New Yorker by birth,
Paul Kessel
has lived and worked in the city most of his life. Photography only came into the picture after a career in clinical psychology, psychoanalysis, and university teaching. On a whim he took a basic class at the International Center for Photography, which led to 10 years of additional classes, and a second career creating memorable images. 
A competitive amateur golfer for most of his life, Kessel never won a major trophy. But his photographs have been recognized by, or won, virtually every major street photography award, including:
Photolucida Critical Mass: Finalist (2022) 
Lucie Foundation: Finalist (2022)
Lens Culture Street Awards: Finalist and 3rd Place Winner (2020), Top 100 (2016)
Miami Street Photography Festival: Finalist (2017) (2018), Finalist and Winner (2020)
San Francisco Streetfoto Festival (streets of SF): Finalist (2018, 2020), Cage Match Winner (2017) 
PDN "Faces": Self-Portrait Winner (2019), Winner, Portrait (2018)
LACP, Street Shooting Around the World: Winner (2020), Finalist (2018), (2021)
London Street Photography Festival:  Finalist (2019)
Italian Street Photography Festival (2021, 2022)
Guides Association of NYC: Winner (2017) and
Nominated (2023) for Outstanding Achievement in NYC Photography
Soho Photo National Photography Competition: First Place (2015, 2021)
Pollux Awards: Street Division, Winner (2019, 2023)
Winner First Place, TDM Awards (2021)
Paris International Street Photography Awards: Finalist (2020, 2021)
Istanbul Street Photography Awards: Finalist (2020)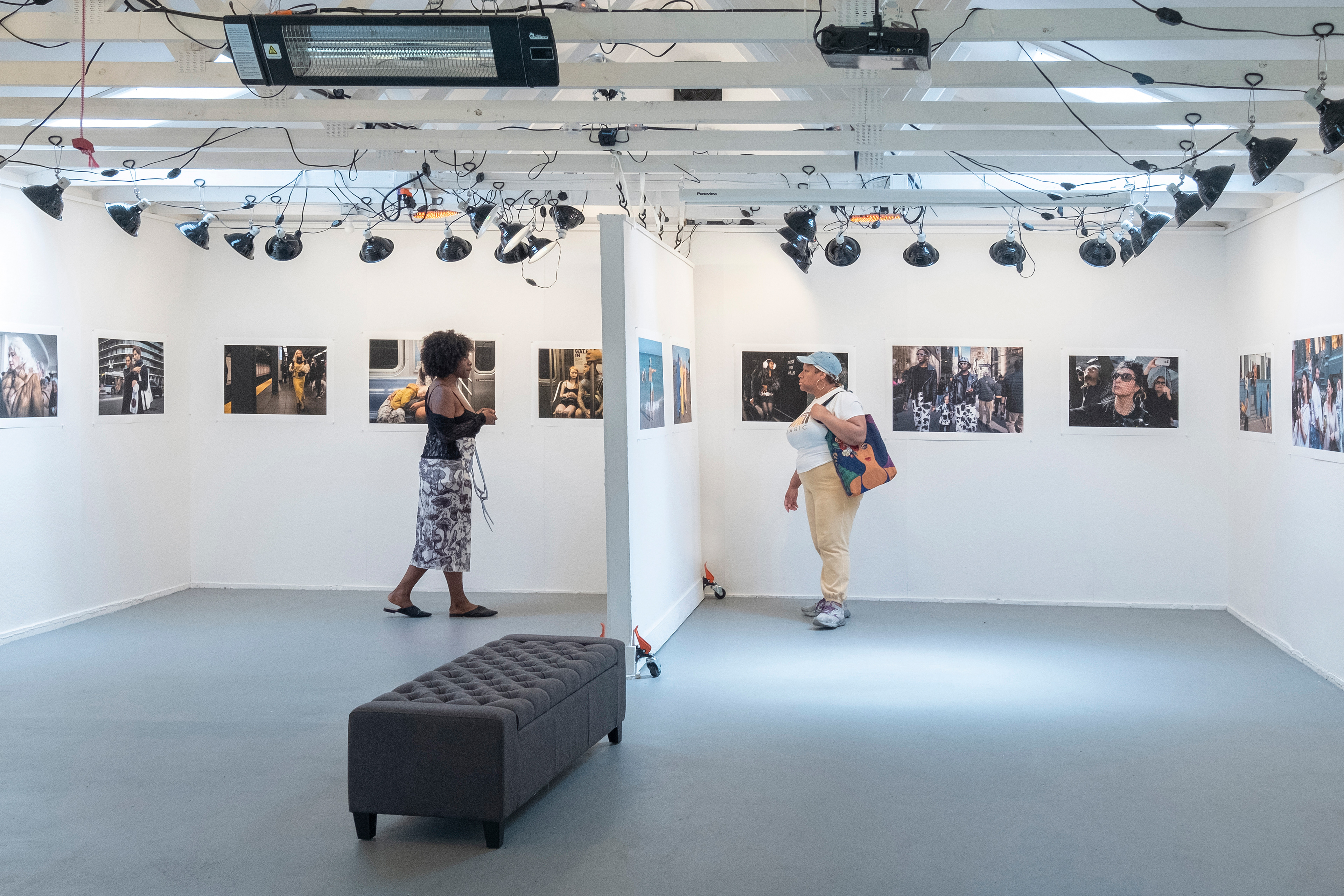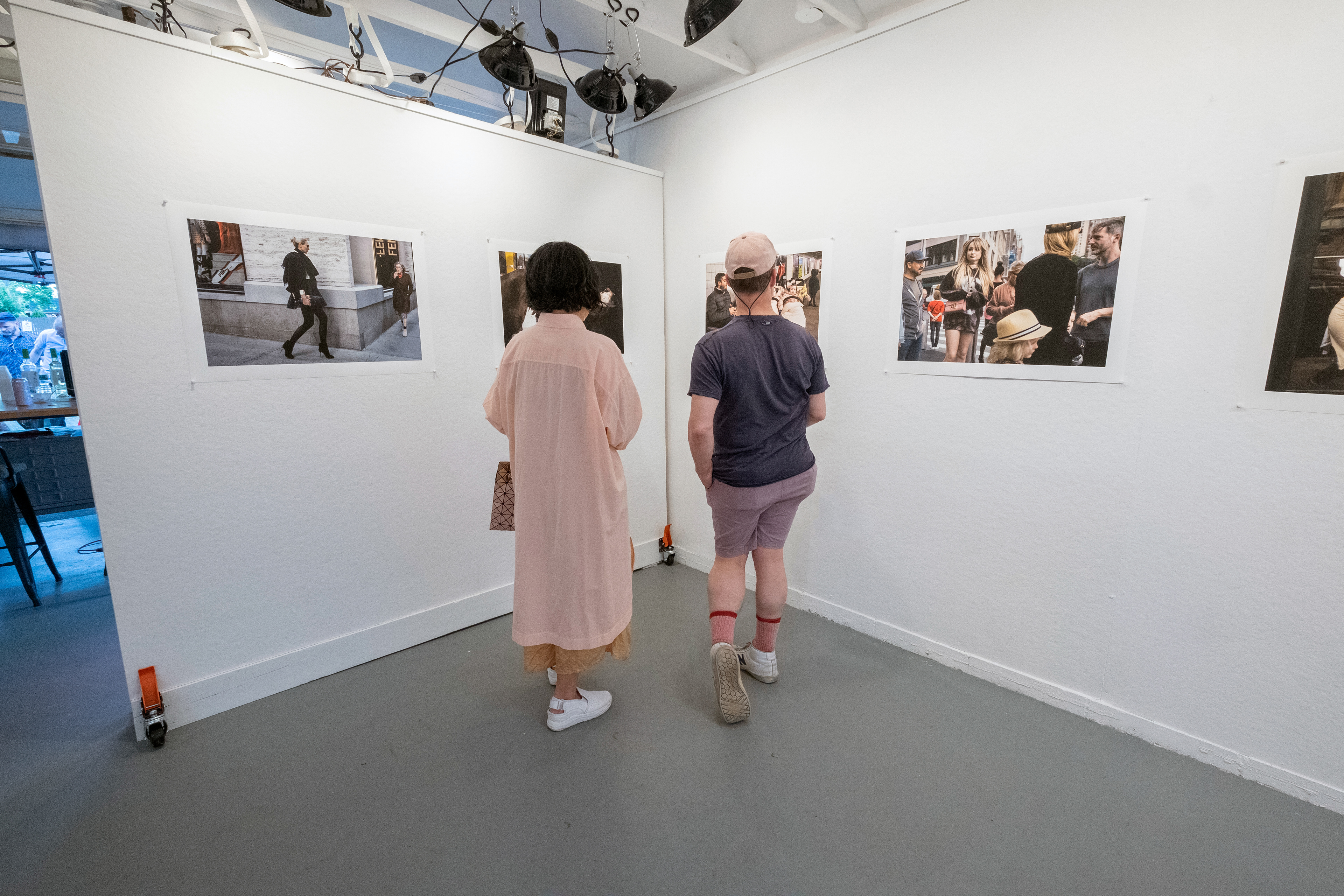 An

other Pl

ace
Scott Daniel Ellison 
& Susan Keiser
Paired Solo Exhibitions
April 8–23, 2023
Sat/Sun 1–5pm
Opening Reception, April 8th, 4–7pm
There's a place beneath the surface. A place where dreams and memories hold as much sway as physics and evolution. Where what could be, may be, is manifest unencumbered by what was.
Scott Daniel Ellison and Susan Keiser see beneath the surface of things to that other place. Neither knows what will emerge when they start. They follow and amplify what appears, yielding to chance to create something almost familiar but entirely new.
Their work is both frightening and funny. A glimpse of a deeper narrative that the viewer must complete in their own way. Each creates art that defies convention and sets our imaginations into motion.
​​​​​
Scott Daniel Ellison
conjures up images of affectionately ghastly creatures, pulling them out of layers of paint with brushes, Q-tips, cloths, and knives—until they emerge, seemingly whole. His subtle palette heightens the feeling that we are peering into a place that has its own logic and rules.
BIO
Susan Keiser
uses photography to describe her world, not the day-to-day of it, but the sun-born visions and night-bound terrors that can't be seen or understood until pictured. Memories and dreams, revelations and reflections, only come into focus when manifested in tangible images. Intuitive, improvised, her images are created entirely in-camera and in available light. 
BIO