Man Saves Shark

Emil Alzamora
October 8–30
Sat/Sun 1–5pm
Opening reception, Saturday 
October 8th, 4–7pm
It's hard to imagine a cuddly shark. We've turned lions, and tigers, and bears into plush stuffed toys, advertising "spokes-animals," and beloved characters in children's stories. But not sharks. Sharks are mostly portrayed as villains, as killers in constant motion searching for prey. Perhaps it's their multiple rows of ever-growing teeth, boneless bodies, and silent approach that evokes existential terror.
Until now, Alzamora has primarily explored the boundaries and meaning of the human form. "Man Saves Shark" extends his work into humanity's relationship with other species. Centered on one of the most intimidating animals left on earth, his emotionally charged sculptures remind us that, despite our instinctive fear, these keystone creatures are critical allies in preserving the last great wilderness on the planet; that sharks are worthy of respect, protection, and even love. 
By depicting an unlikely embrace of humanity and sea, Alzamora forces himself, and us, to confront our deep-seated fear of creatures that still hold sway over their domain and our imaginations—and to begin to understand how our survival is intertwined with theirs.
Emil Alzamora 
is a figurative sculptor who explores notions of transience, beauty, harmony, uncertainty and hope. He spent much of his childhood exploring, fishing, and hunting in the bountiful waters off Boca Grande, Florida, and Mallorca, Spain. Now living in Beacon, New York, his home and studio overlook the tides of the Hudson River, a constant reminder of those early experiences, and the impetus for this vision of undersea life.
His work has been exhibited in numerous venues both here and abroad, including the Knoxville Museum of Art, Knoxville, TN; Royal West of England Academy, Bristol, UK; the United Nations Building, New York, NY; and The Queens Museum of Art, New York, NY, Lowell Ryan Projects, Los Angeles, CA; Marc Straus Gallery, New York , NY; and Ethan Cohen Gallery, New York, NY. Publications include
The New York Times, The Brooklyn Rail, Boston Metro News, Juxtapoz, ArteFuse, Whitehot
Magazine, and
Cool Hunting
.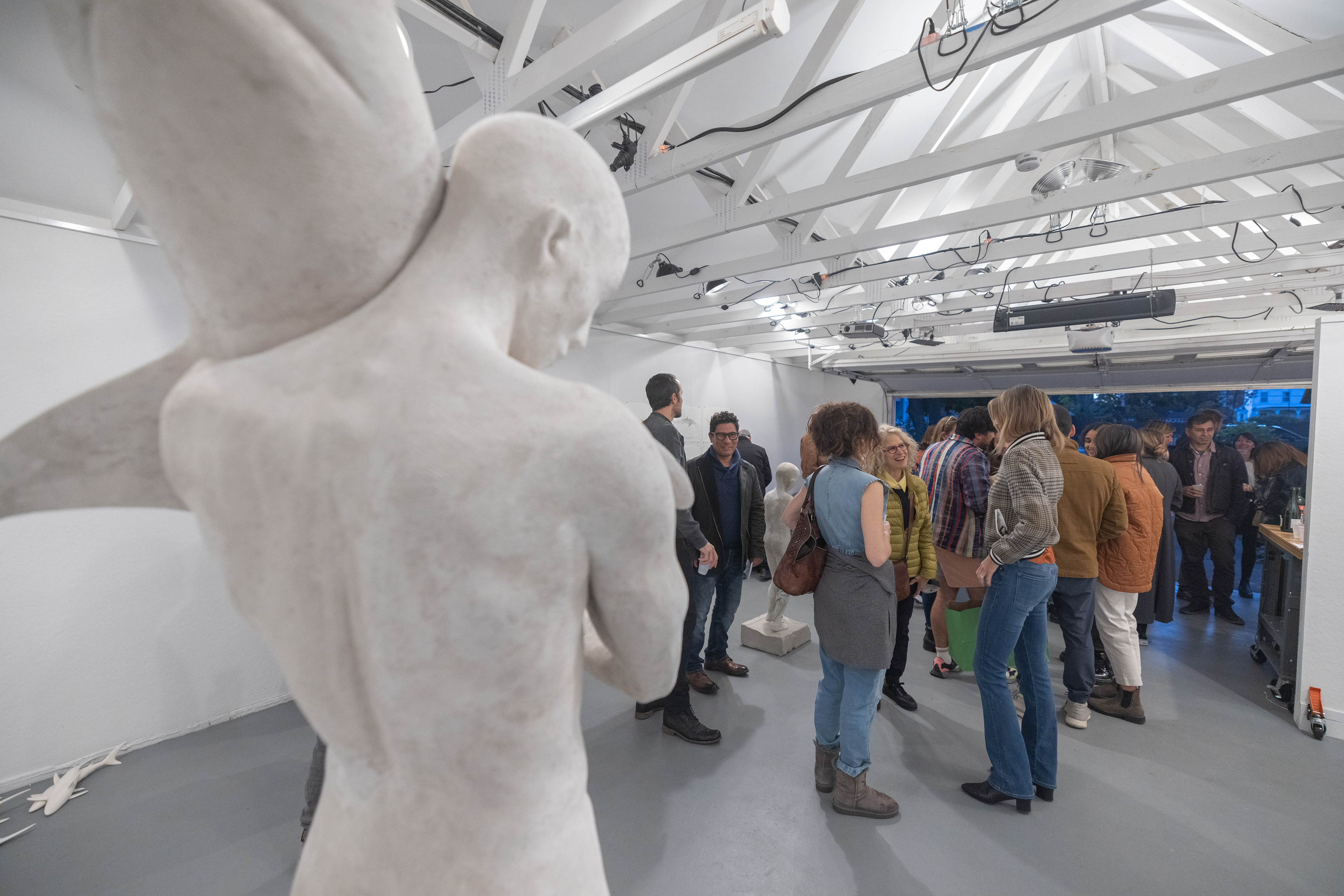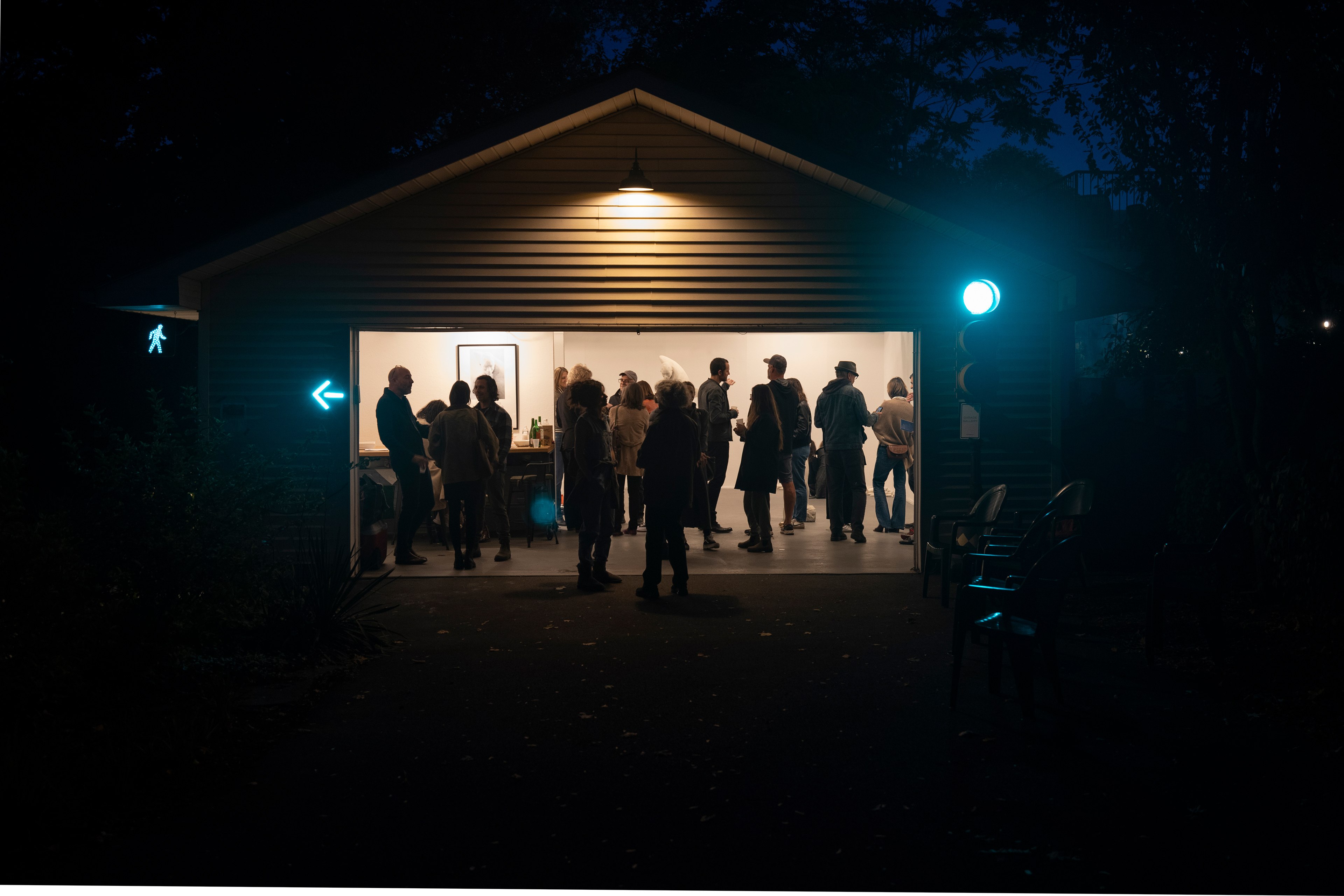 Natural Order
Sarah Heitmeyer
& Scott Lerman
September 10–25
Sat/Sun 1–5
Opening reception, Saturday 
September 10th, 4–7pm
Our lives are spent in spaces we have designed and built, both on the earth and online. Human logic and structure underlie how and what we experience, giving us a sense of power and control.
While our intellect craves order, our spirit drives us to seek the natural world, to get outside and out of our heads. We journey to open land, water, and forest to be immersed in a story we did not author. To be enveloped in natural form, sound, smell, and texture. To be surprised and renewed.
But inevitably, we return.
Sarah Heitmeyer's
work takes us back to the water's edge where we can drift in the waves and find resonance with the tide. Where water gives form to energy we cannot see. The shifting shapes and transparent surfaces of her geometric tiles and modular ceramic constructions give the eye something to focus on, while the mind takes a breath. The flowing surfaces, pressed by hand or swirled into patterned forms, are a bridge to the wild.
Her work has been exhibited in a wide range of galleries, including the Clay Studio, Philadelphia, PA; Radius Gallery, Missoula, MT;  the Women's Studio Workshop, Rosendale, NY;  Page Bond Gallery, Richmond, VA; Archie Bray Foundation, Helena, MT; Dorsky Museum of Art, New Paltz, NY; Pewabic Tile, Detroit, MI; Carbondale Clay Center in Carbondale, CO, and Peekskill Clay Studios, Peekskill NY.
The recipient of an emerging artist award from the National Council on Education of the Ceramic Arts in 2019, Heitmeyer holds a BFA from Alfred University and an MFA from the State University of New York at New Paltz. She currently resides in Fishkill, NY.
Scott Lerman
transports us deep into the forest, where we are immersed in the distinctive textures and colors of its trees. In our minds, we can run our fingers over the scars, clinging lichen, and rough bark that record their history. His photo-based images deconstruct and reassemble surfaces, amplifying each tree's distinctive character and bringing an abstracted forest into our ordered world. 
Lerman creates photographs at the intersection of art and science, of nature and technology. Whether frozen by an array of ultra-high-speed strobes, stacked and stitched by a computational model, or captured by a hybrid of obsolete and cutting-edge technology. His (sometimes obsessive) curiosity about how mechanical, digital, and natural things work leads him to explore and experiment with hybrids of all three.
His work has been exhibited in a wide range of galleries, including Candela Books + Gallery, Richmond VA; The Center for Fine Art Photography, Fort Collins, CO;  Darkroom Gallery, Essex Junction, VT; Garner Arts Center, West Haverstraw, NY; Kadoya Gallery, Pueblo, CO; and Soho Photo, New York, NY. He resides in Beacon, NY. Lerman holds a BFA from The Cooper Union for the Advancement of Science and Art. 
In the sculpture garden...
The Violet Hour
Alice Hargrave
When the sky turns violet, it's a signal that day is fading, that hope is waning. Alice Hargrave's work evokes that interval. It sounds a warning that time is running short for our biosphere and provokes a sense of profound sadness for what is already lost. And perhaps, by awakening our connection with what remains, compels us to consider our role in the nature of what the next day will bring. 
Hargrave brings together multifaceted bodies of work that explore impermanence, environmental insecurity, habitat loss, and species extinction. Inside the gallery space, semi-transparent hangings embrace us, forcing us to interact with the rich world that we too often ignore—while spectrograms of birdcalls and lake science data visualizations chart the spiral of loss and decline.
Alice Hargrave, a photo-based artist from Chicago, uses sound, video, and photographic imagery to create layered installations that address environmental threats, habitat loss, and species extinctions. Her work has been exhibited widely both here and abroad, most recently in Lianzhou, China, and has won several awards, including a 2020 Illinois Arts Council Individual Artist Grant. Her monograph, Paradise Wavering, published by Daylight Books in 2016, explored the fugitive nature of experience, time, light, and the photographic medium itself. And the accompanying installation traveled to multiple venues across the United States. French design house
Dovima Paris
used prints of bird calls captured by Hargrave to create haute couture garments, with profits from their sale donated to benefit the birds.
Hargrave's work is included in several permanent collections, including the Museum of Contemporary Photography in Chicago, and has been reviewed in numerous journals, including HuffPost, BBC News, and ARTNET. Based on her research, she has been awarded artist residencies from the Florida Keys to Montana.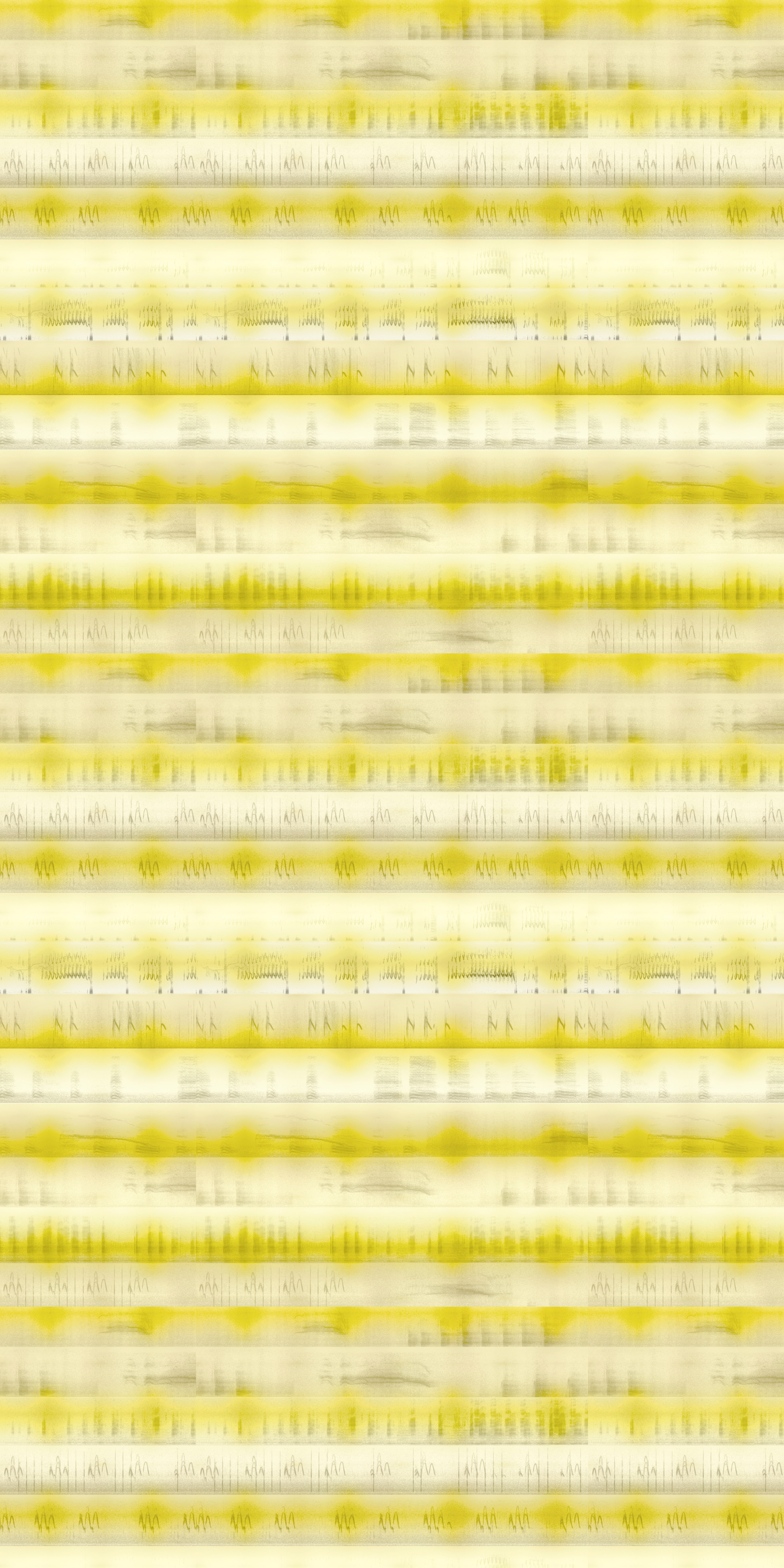 Untold Stories
Susan Keiser
& Judy Riola 
July 9–24, Sat/Sun 1-5 
(+ Friday the 22nd
)
While its impact on our politics gets most of our attention, social media is also changing our expectations for how we should tell stories. Words and pictures flood our screens, coming in short bursts that encourage us to engage momentarily and move on. As images become illustrations and texts become scripts, we are being conditioned to consume, rather than interact with what we see. 
IRL, artists must find a way to get viewers to consider and respond to what's actually in front of them. Sometimes there are no ready explanations, and narratives only emerge when viewers combine their own experience and perspective with the artist's vision. Some stories can't be told, they must be experienced. 
In a culture saturated with super-sized comic book heroes and galaxies far, far away,
 Susan Keiser 
brings us down to earth, to the mysteries of intimate spaces. She photographs a mass-produced family of dolls from the 1950s—once the embodiment of an idealized middle-class culture. Only 4 inches tall, they have power beyond their size, and her complex images address both individual and cultural histories.  
Created entirely in camera, these images from her "Barbaric Glass" portfolio are shot through sheets of ice. Just as glass is created by intense heat, ice is formed by intense cold. Both are fragile, reflective, and transparent. And both can create life-framing windows and mirrors, lenses that fill photographic frames with narrative possibilities. 

 ​​​​​​​​​​​​​
Judy Riola's
early abstract paintings of colliding patterns and shapes have morphed into something more layered and iconically complex. Animal and human figures have muscled their way onto her canvases, creating a unique sense of space and offering new interpretive possibilities.  
These figures add a narrative element to her vocabulary of vividly colored checkerboards, polka dots, and diamond bands, forcing viewers to reflect not only on the characters, but on the patterns themselves, and giving us glimpses of a less rosy world view than her bright colors initially suggest. Like the circuses they often evoke, her paintings delight us at first look, then unexpectedly draw us into meditations on our relationships to each other and with the natural world.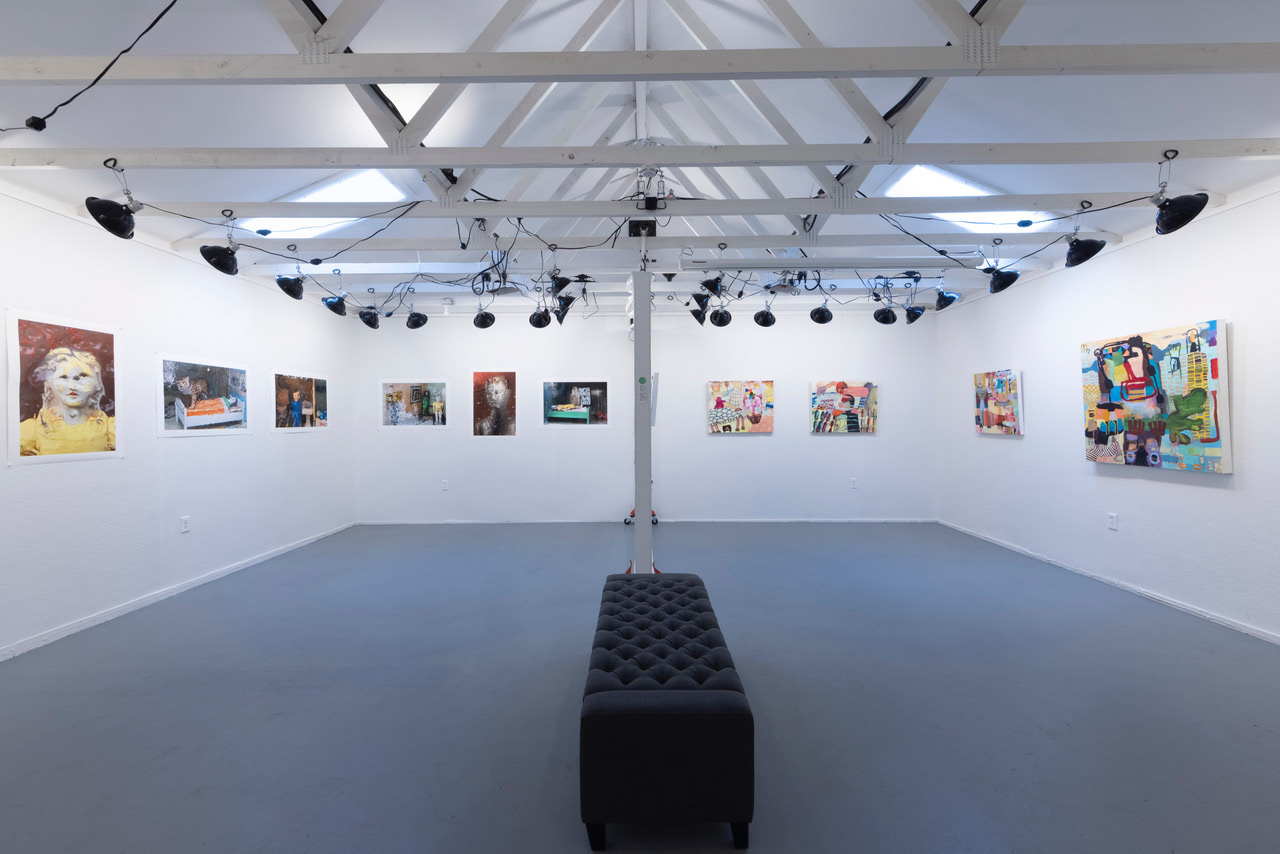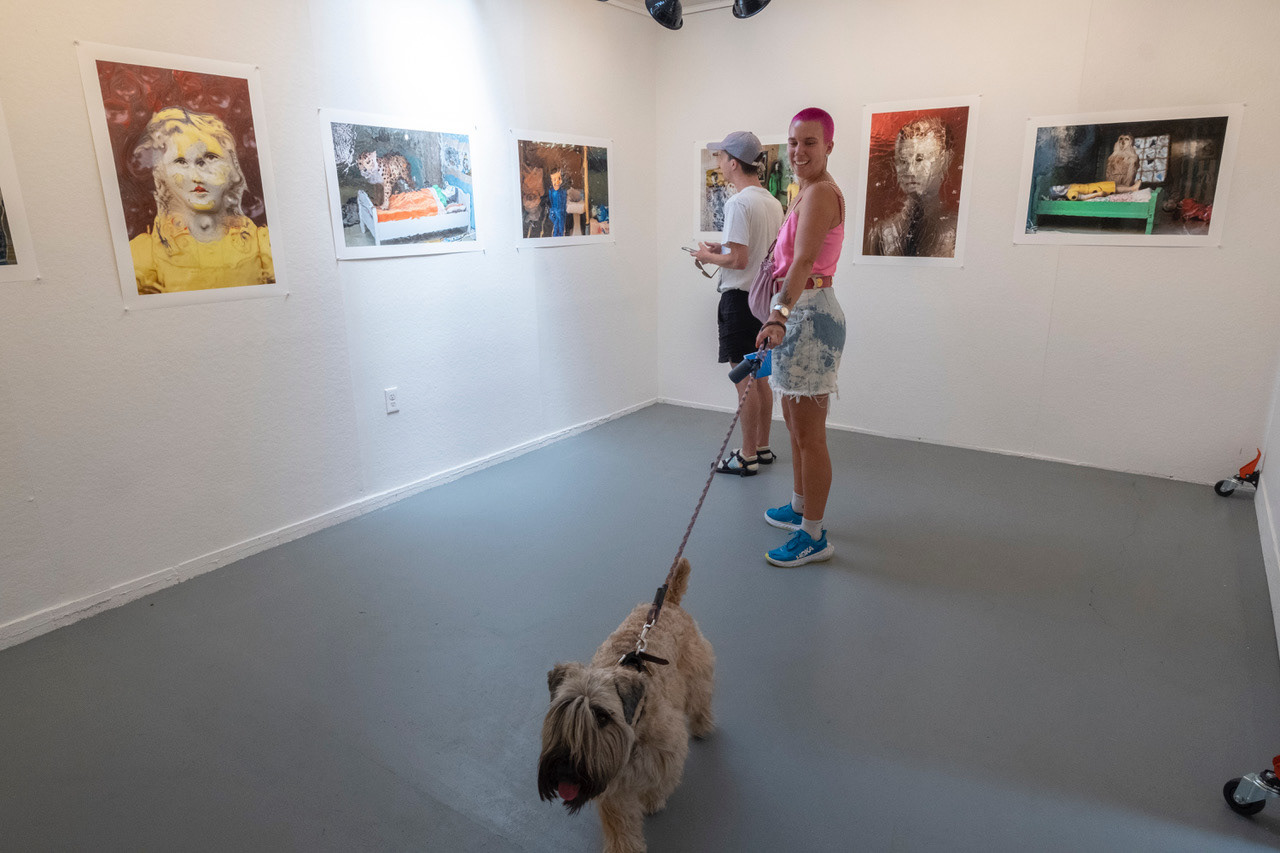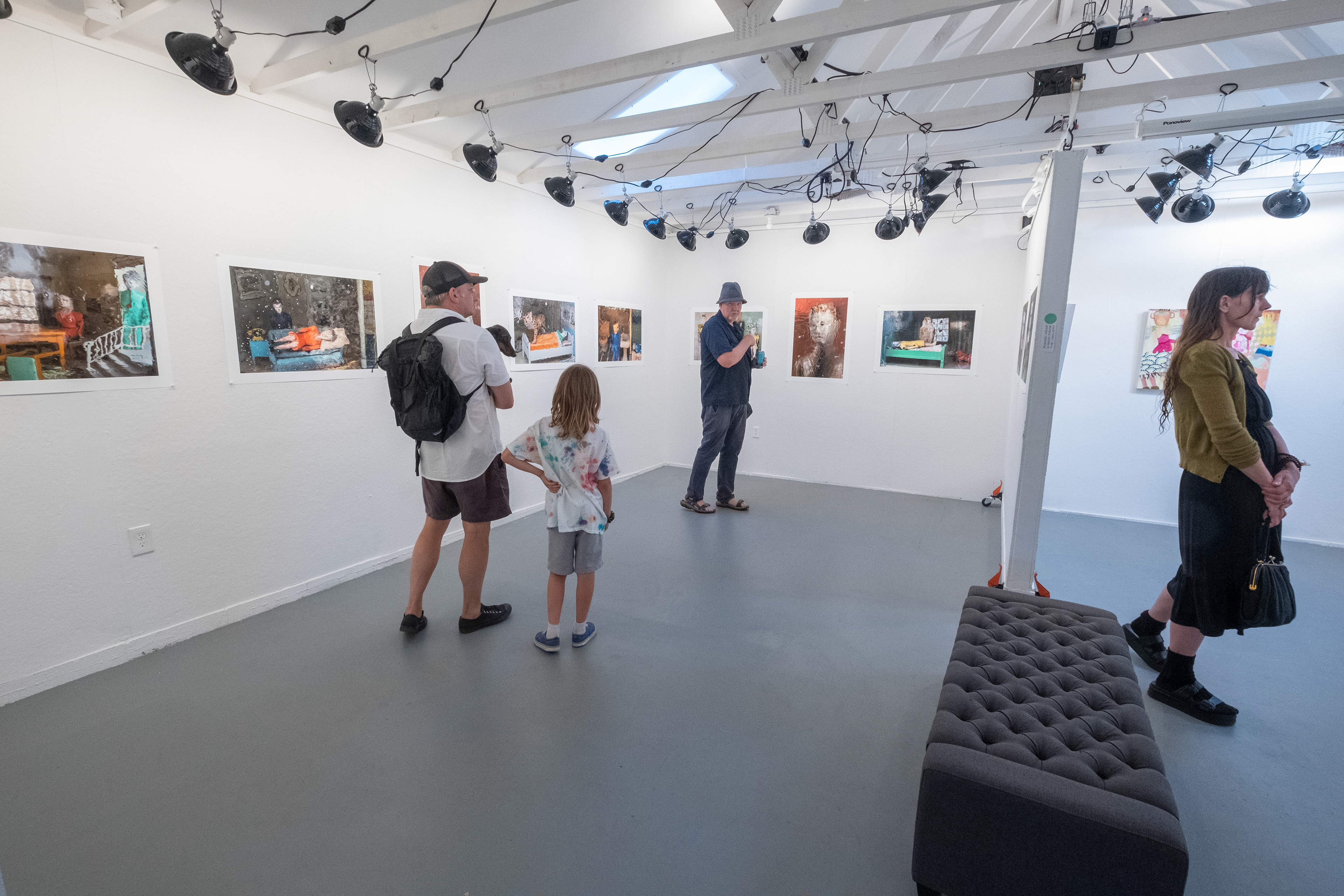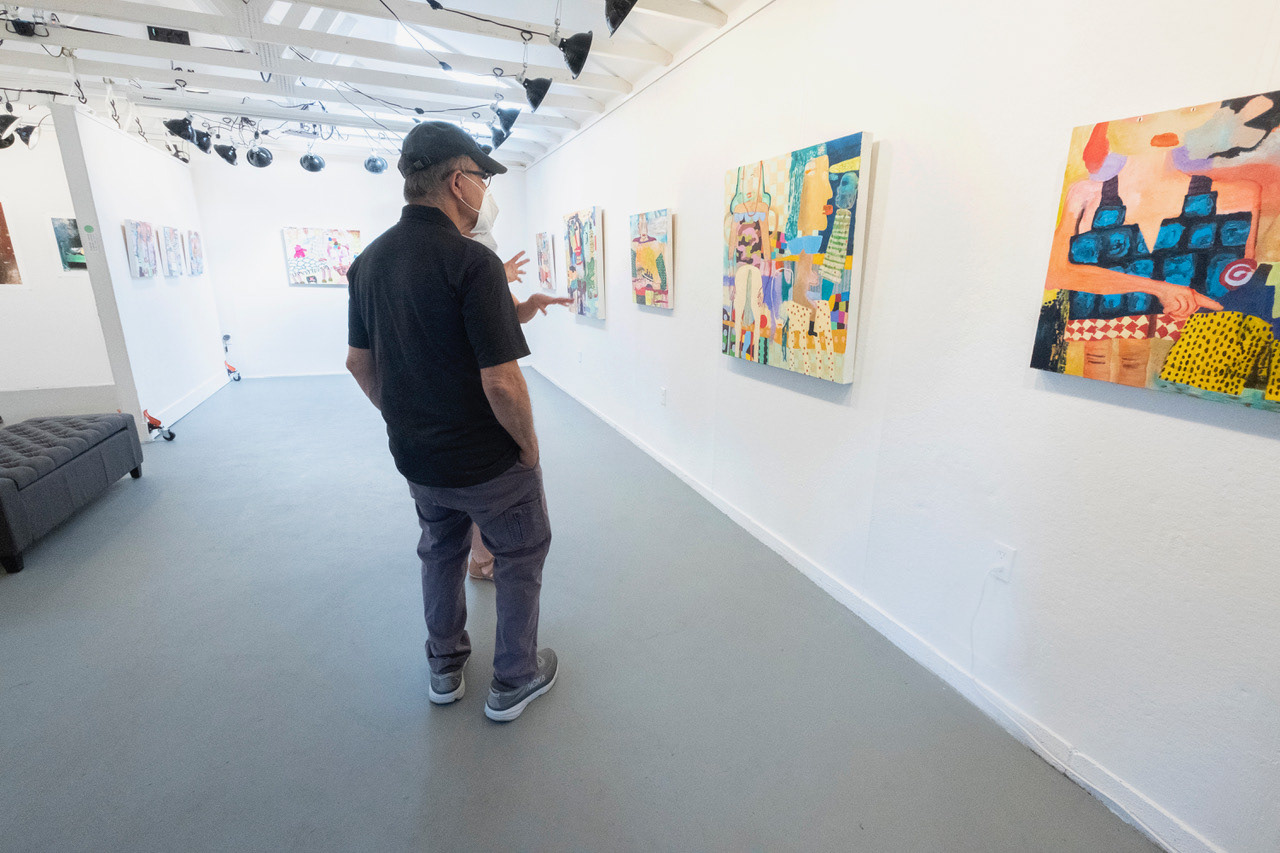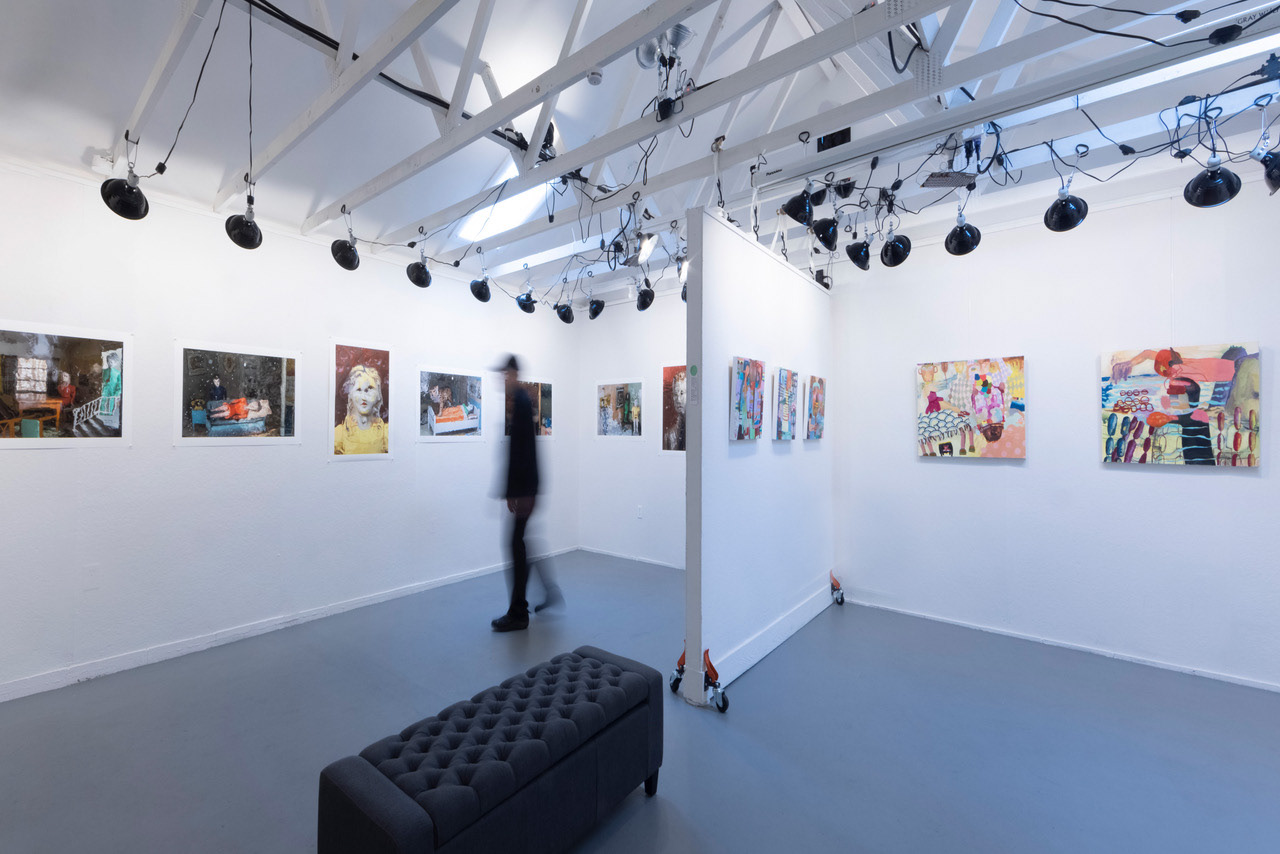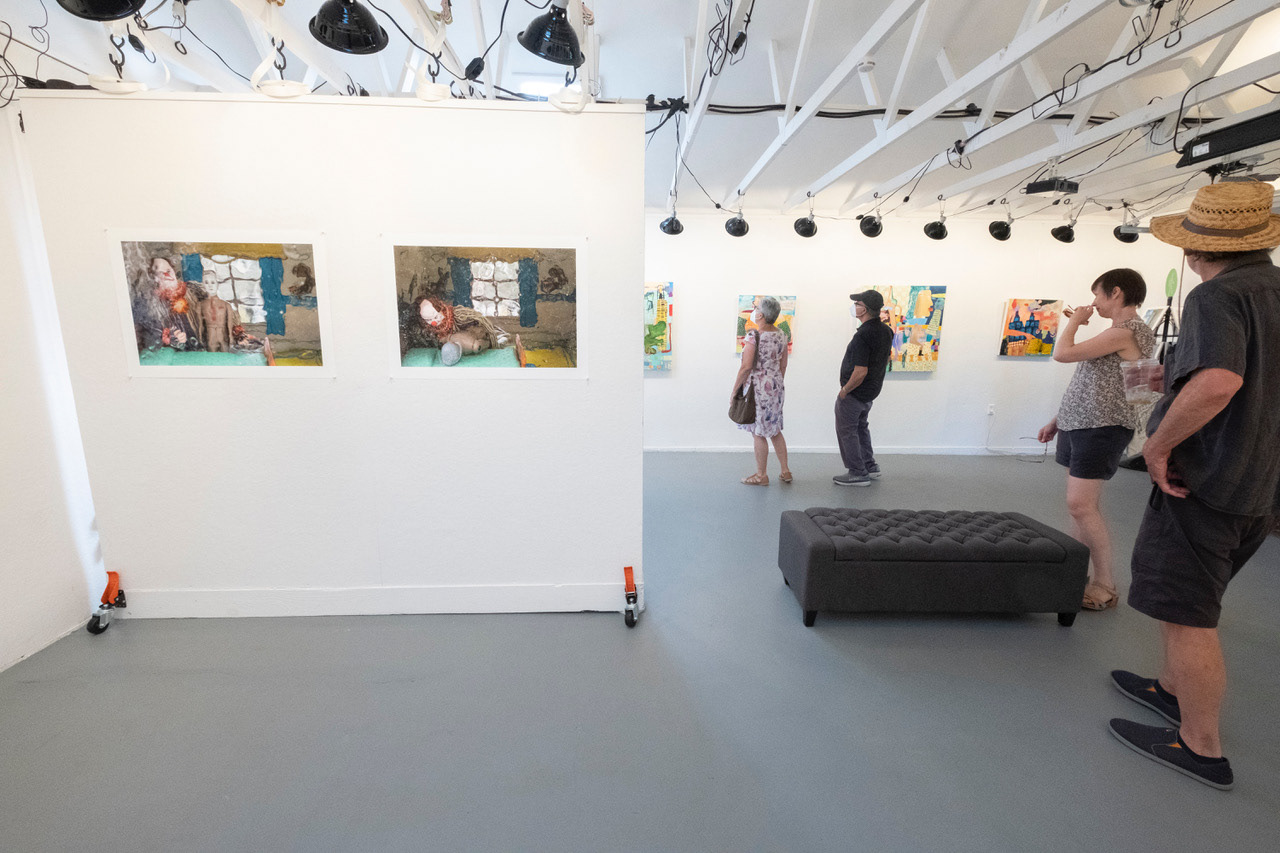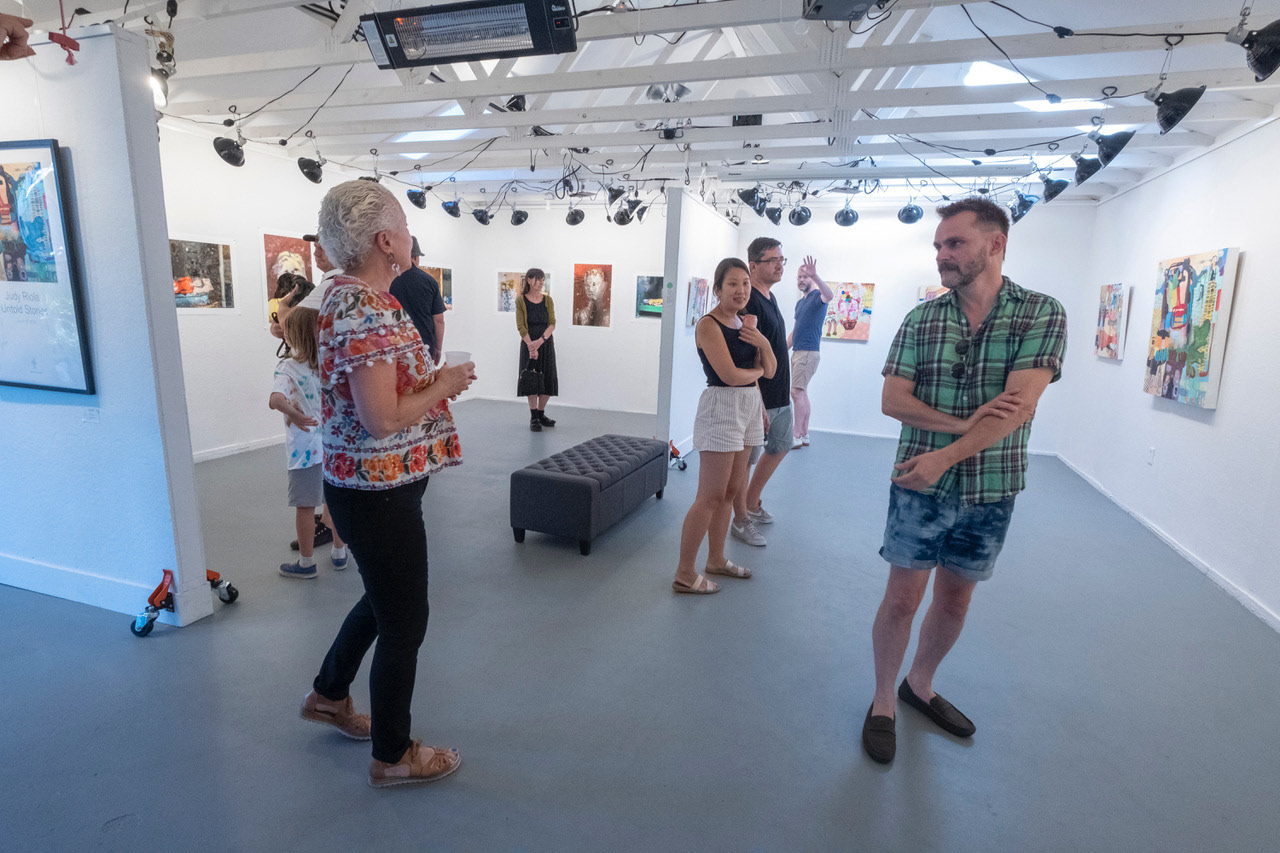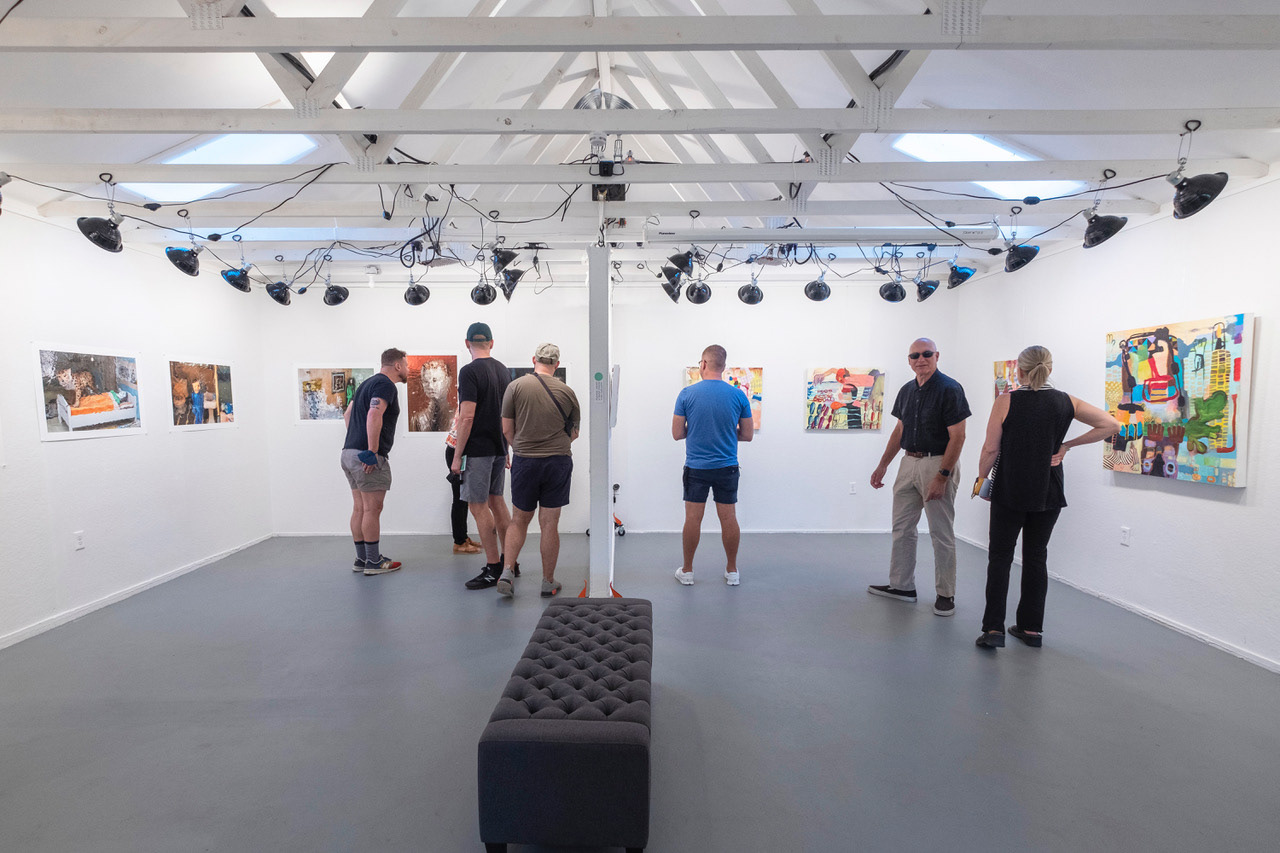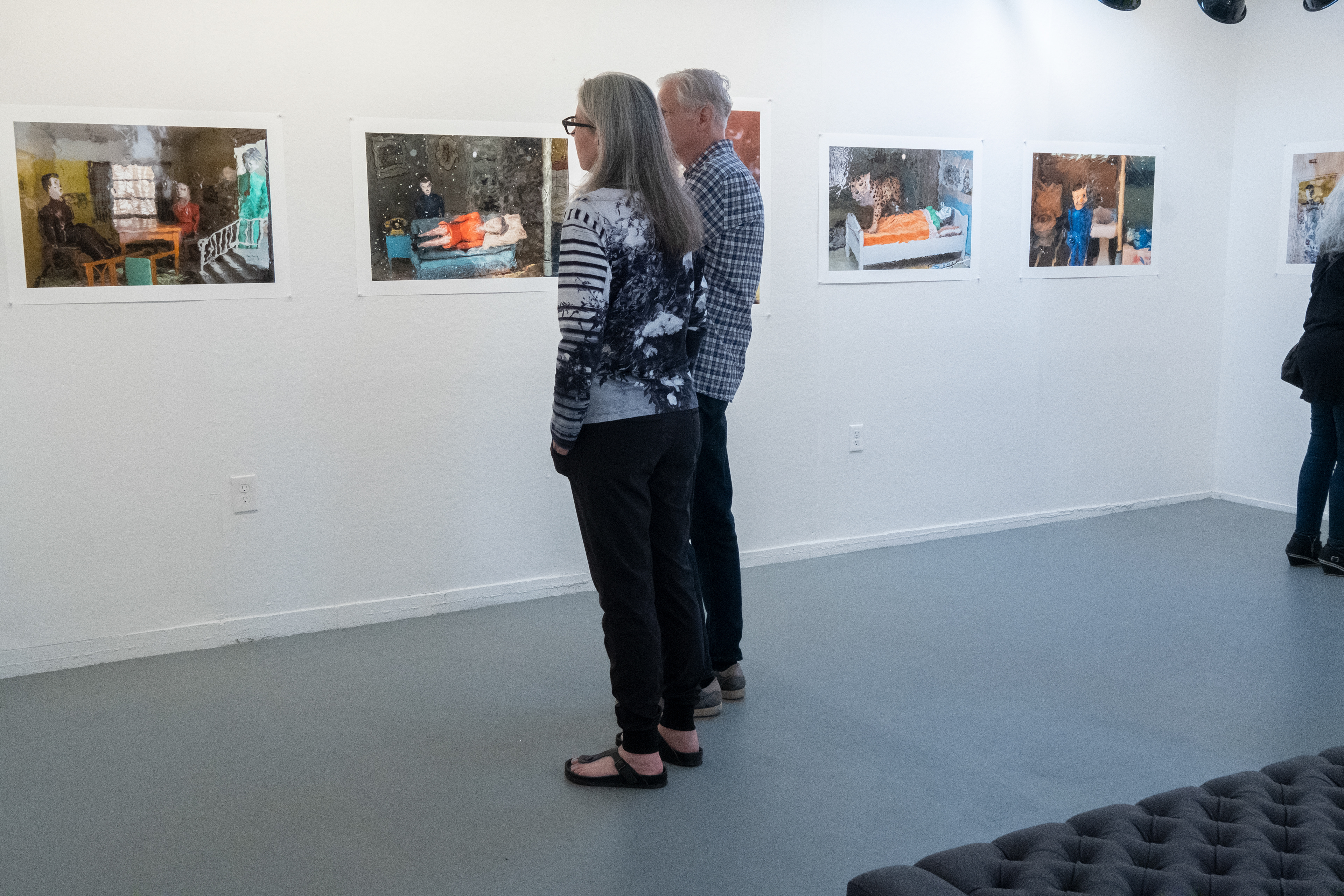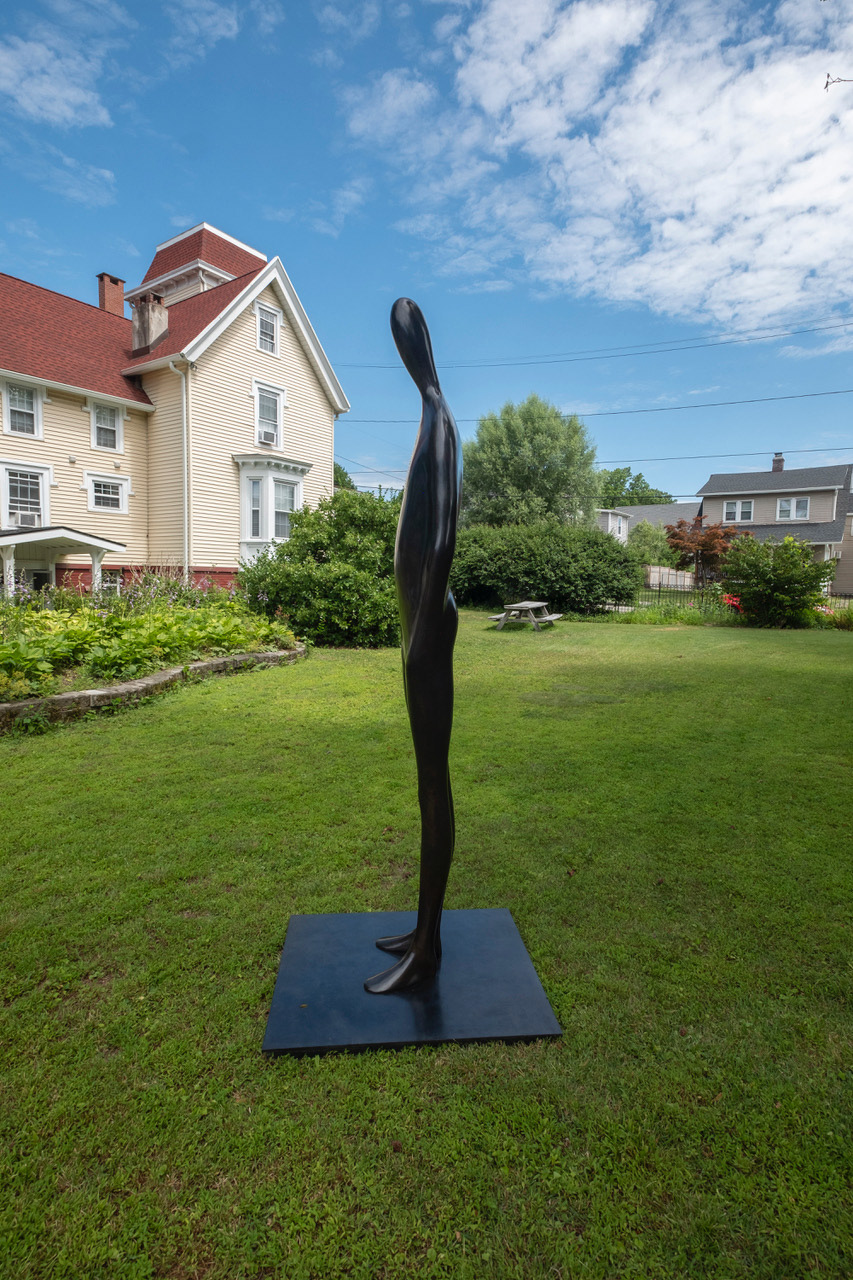 Aaron Nelson's Tiger is a powerful blend of computer-based 3D design, on-demand production, and artistic vision. Tiger is constructed from 1908 dowels, joined by 639 unique connectors (requiring over 2000 hours of automated 3D printing time in the Hudson Valley Additive Manufacturing Center) and careful hand assembly. What started life as a scan of a small model takes on a mythical form that both commands and blends in with its environment.
Nelson is Lead Researcher at the Hudson Valley Additive Manufacturing Center, Program Director of the Digital Design and Fabrication Program, and Associate Professor of Art at SUNY New Paltz.    
Emil Alzamora
Hector's Return, 2015
Bronze
85 H x 12 W x 17 D inches
Edition of 3 (#2/3)
Emil Alzamora was born in Lima, Peru and lives and works in Beacon, NY. His figurative sculpture practice explores notions of transience, beauty, harmony, uncertainty and hope.
Garage Gallery will be hosting a solo exhibition of Alzamora's work in October 2022.
What Memory Holds
Diana Nicholette Jeon 
& Kent Krugh
June 11–26, 2022
Opening reception, June 11th, 4–7pm
Most of us go about our daily lives simply accepting that we are seeing things as they really are. We open our eyes to the light and "believe" the images that appear before us, rarely thinking about how our brain creates those pictures, or how we are constantly manipulating that process.
When our eyes are young, everything is sharp, and we can choose what to focus on. As age gradually softens the edges, we increasingly rely on memory, not to edit the picture, but to make one. What we see and what we remember are continually intertwining to create our reality. Whether through biology or art, in the absence of detailed descriptions, the mind creates its own, less literal, world.
For Diana Nicholette Jeon, the contingency of human vision became apparent when she turned eighteen and her mother was declared "legally blind." While Jeon, as an artist, increasingly relied on the acuity of her sight, her mother continued to effectively "see" her way through life, despite the ongoing decline in her vision.
Photographing vistas as her mother might have seen them, Jeon created the Legally Blind project as a tribute to her mother's tenacity. Shot through semitranslucent scrims, the brilliantly colored images glow from within, becoming abstracted landscapes that recall Turner seascapes or a Rothko color field painting. 
At first glance Kent Krugh's trees also seem softly abstracted. But when looked at more closely, they are etched with precision, created through a process that references how mental images are created over time: Find a memorable tree. Center it in the viewfinder. Circle around it taking 15–25 frames, each identically composed but from a slightly different angle. Finally, composite them together into a single image.
The resulting portraits are strong yet delicate. There is clarity in the details, a sharpness in the individual frames that only appears blurred because of the layering. Ghost images echo across time—cars and people, hands outstretched, a slatted bench and gravestones—all emerge like lost narratives from another life. 
May 14–29, 2022
Opening reception, May 14, 4–7pm
We rely on artists to give form to thoughts and perceptions we can't put into words, those feelings of both isolation and kinship that punctuate our relationship with the world around us. Whatever gets said later—and there's usually much to talk about—we cherish work that offers an immediate, silent, human connection, work that offers us one person's "theory" of the universe, which in turn, can help us understand our own.  
Baju Wijono's nomadic early life is reflected in his complex visual references, from the elegance and grace of Chinese calligraphy to the dynamic power of expressionist abstractions. Layered spaces grow deep with sometimes exuberant color, yet the mood is often surprisingly somber. Paintings often begin or end in scrims of black, hiding and revealing the way veils do, letting us glimpse a different kind of beauty.  
Buried in Wijono's biomorphic images are the geometric remnants of mechanical devices, and his gestural brushstrokes trace complex paths with precision. Plant and body parts, identifiable flowers, and possible faces all emerge and become more or less dominant depending on the viewer. All demand to be seen and engaged.
Original Species
Laura Gurton &
Daniel Kariko
April 9–May 1, 2022

"Species" is one of those words, like "pornography," that most people think they understand but for which there is no generally accepted definition. For many of us, it's simply a case of "I know it when I see it."  
Since Linnaeus pioneered taxonomy, scientists have used ever-advancing imaging and data-analysis tools to define species by what they look like and how they evolved. But instead of bringing clarity and agreement, the result has often been controversy. The closer we examine organisms, the further we seem from a true understanding. Defining what constitutes a species continues to be not only a science but an art. 
Laura Gurton's 
paintings move us through space, from explosions in a distant universe to the inner structures of living things. Drops of paint ripple out to create individual cells, which aggregate into tissues suggesting microscopic views of an unknown species. It's a familiar pattern, like raindrops striking water, but one made unique by her controlled compositions and lush colors. 
BIO
The well-known species in
Daniel Kariko's
 photographs live among us in our homes and gardens. Usually too small to attract much notice, insects are among the oldest and most diverse living organisms on the planet. Still recognizable from when they first emerged from the primordial ooze, many are now threatened with extinction, which in turn threatens entire ecosystems. Integrating images from conventional and electron-scanning microscopes, Kariko creates luminous portraits of these extraordinary creatures, hoping to provoke a discussion about their impact on our environment, and ultimately, about our species' impact on theirs. 
BIO